The UN cultural agency Unesco has warned that the increasing attacks by the militant group Islamic State (Isis) in Iraq and Syria on heritage sites has reached "industrial scale".
The Sunni extremist group is estimated to control as many as 2,000 world-renowned heritage sites across Iraq, with thousands more termed vulnerable.
Speaking to a group of experts at the Royal United Services Institute in London, Irina Bokova, the chief of the agency, said: "This deliberate destruction is not only continuing, it is happening on a systematic basis. The looting of archaeological sites and museums, in Iraq particularly, has reached an industrial scale of destruction."
Labelling it as "cultural cleansing," Bokova added that devastation of the artefacts "has reached unprecedented levels in contemporary history". She said the UN agency is tracking the developments in Syria and Iraqi with the help of satellite images.
Both Iraq and Syria are thought to contain some of the most treasured historical monuments, which are now being sold to middlemen to raise revenue for the Islamist group. Iraq alone is estimated to have about 10,000 heritage sites.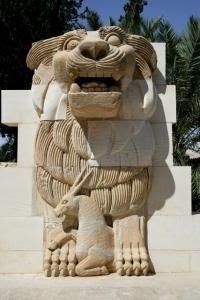 Forcing the local farmers to smuggle out the artefacts, the IS then eventually sells them to private collectors across the world.
"Daesh [IS] knows there's a financial upside of this activity and they are trying to gain from it. We know also that parties in the conflict are selling to certain dealers and to private collectors and to market end buyers," added Bokova.
The bleak warning from the UN has come shortly after the group publicly smashed cultural treasures in the ancient Syrian city of Palmyra.
"IS terrorists have destroyed one of the most important unearthed statues in Syria in terms of quality and weight ... it was discovered in 1977 and dates back to the second century A.D.," Ma'moun Abdul-Karim, director of museums and antiquities, told state-run Syria's state-run SANA news agency.
The IS, which see the non-Islamic vestiges as blasphemous, destroyed the relics with sledgehammers after a Shariah court declared the centuries-old objects anti-Islamic. A smuggler, who was caught with at least six ancient statues, was also lashed by the jihadists.