An explosive new report has claimed past regimes of cycling's world governing body, the Union Cycliste Internationale (UCI), conspired with Lance Armstrong in efforts to overlook the disgraced former champion's doping in order to boost the world profile of the sport.
In the report published by the Cycling Independent Reform Commission (CIRC) on Monday, it is claimed Armstrong 'benefited from a preferential status afforded by the UCI leadership' – specifically former president Pat McQuaid and his predecessor Hein Verbruggen - who failed to enforce their own doping rules.
It also claimed Armstrong's lifetime ban "can hardly be justified" as other offenders have received bans of only six months.
The 227-page document, the result of a 13-month investigation set up by current UCI president Brian Cookson, also found that a "culture of doping continues to exist" in cycling, but clears the organisation of outright corruption.
The CIRC report, chaired by Switzerland's former state prosecutor Dick Marty included 174 interviews with the likes of Armstrong, McQuaid and Verbruggen: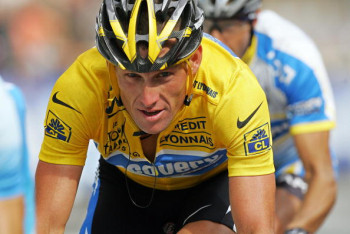 "There are numerous examples that prove Lance Armstrong benefited from a preferential status afforded by the UCI leadership. UCI did not actively seek to corroborate whether allegations of doping against Lance Armstrong were well-founded [but] fell back to a defensive position as if every attack against Lance Armstrong was an attack against cycling and the UCI leadership. There was a tacit exchange of favours between the UCI leadership and Lance Armstrong, and they presented a common front."
Of the litany of examples of failings from the organisation, the report highlighted the incident where Armstrong was allowed to backdate medical prescriptions for cortisone having tested positive for the substance in the 1999 Tour de France, the American's first title.
On that incident, the reports concludes: "Direct contact was initiated between high-level UCI officials and the Armstrong entourage, during which the latter was advised to produce a medical certificate ... when a medical certificate was produced ... it should have been obvious to UCI that [it] ... was backdated and solely provided to justify a posteriori the traces of triamcinolone found in the rider's urine. Therefore, disciplinary proceedings should have been opened."
The report adds the incident of backdating medical prescriptions to explain the presence of substances such as cortisone was standard practice with the UCI who "appeared to have a policy of accepting backdated prescriptions and to be lenient in applying the rules on therapeutic use exemptions.
"The practice was justified by arguing that, from a health perspective, it made little difference whether the prescription was provided before or after testing. Prescriptions were seen by riders as a means of covering up positive tests results."