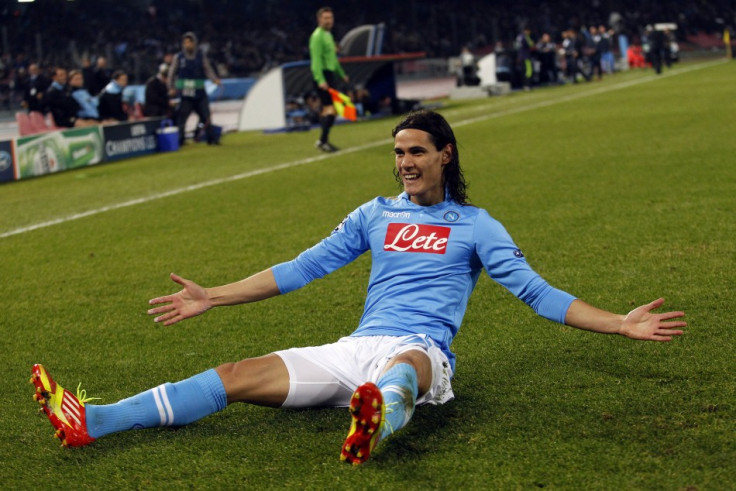 Manchester United target Edinson Cavani has admitted to being interested in the Premier League, though the striker has insisted that he is not thinking about making a move to England yet.
Cavani has starred for Napoli since moving to the Italian club from Palermo in 2010, scoring 33 goals in 46 appearances for the side. The 24 year old has been connected with moves to numerous European clubs, particularly after his performances in the Champions League.
But in his biggest hint yet that he might make a move to England at some point, and in a boost to United, Cavani has admitted that he is a fan of the styles of both English and Spanish football.
"I like English football a lot. There are teams there that are very dynamic and strong," Cavani told El Pais.
"I also like Spanish football as there is more space which is ideal for my game. But my future is at Napoli, I have no doubt. The season is long and hard and I am just focused on Saturday's game with Lazio."
United have long been tracking Cavani, along with his Serie A teammates Ezequiel Lavezzi and Marek Hamsik. The trio have also been watched by cross town rivals Manchester City, with the club's scout admitting that they have been chasing the stars for some time.
Injuries are currently building up in United's attacking line up, and on the weekend Javier Hernandez added to a growing list of players unavailable for selection.
Sir Alex Ferguson has insisted that there won't be any purchases in the January transfer window, but he did admit that there were 'two or three' targets who currently look set to be unavailable.
Cavani scored two goals against City in their last Champions League group stage match up, to put Napoli in the firing line for qualification into the next round. The achievement was a particular blow to the Citizens, who now face an uphill battle to get through to the final 16 in their first go at the European tournament. And it only put Cavani's worth up further in the transfer market, which is currently believed to be around £50 million.