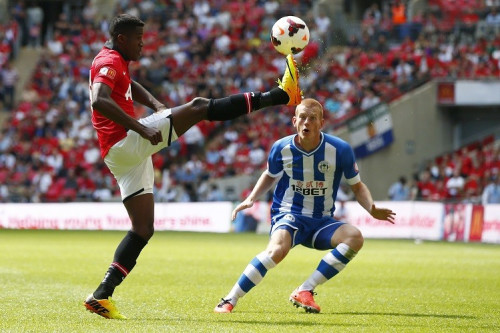 Manchester United pair Anders Lindegaard and Wilfried Zaha are closer to remaining at Old Trafford beyond the end of the January transfer window.
Lindegaard has played second fiddle to No.1 David de Gea all season, making just two appearances this term; the latest coming in the FA Cup defeat to Swansea City.
The 29 year old has spoken of his frustration at being behind De Gea in the pecking order having previously been rotated along with the Spaniard in the last two seasons, but the Danish international is seemingly content with his role as backup.
"It is always nice to play but the way we played was maybe not as enjoyable as I would have imagined," Lindegaard told ManUtd.com after the 2-1 FA Cup third round loss to Swansea City.
"It is very frustrating. You want to show the best side of yourself when you get the chance. You can't do any more or less. That is how football is and that is how it is to be a goalkeeper.
"We don't have the luxury of being able to put ourselves on the scene. We have to wait for something to happen before we can show what we can do.
"A goalkeeper can't get the ball and go for a run to show what they can do as we are in a static position. We have to wait before we can help the team.
"I want to play more but I have to underline I am happy to be at United."
Meanwhile, Zaha, who himself has only made two appearances this season took a giant step closer to remaining at United for the remainder of the campaign after Crystal Palace manager Tony Pulis revealed a loan offer had been rejected by manager David Moyes.
Zaha has been linked with a host of clubs in the January transfer window including Newcastle United, however it was thought his relationship with the Eagles – whom he began his career and spent 11 years with before moving to the Theatre of Dreams – would assist in brokering a deal to him return on loan.
However Pulis said: "We've spoken to David Moyes about Zaha and I don't think he's too keen on him coming back to London.
"It's not a problem for us, he's a Manchester United player. We don't think it's a goer, although we were very keen if there was a possibility to take him on."