FT: Bayer 04 Leverkusen 0-5 Man Utd
FT: Man City 4-2 Viktoria Plzen
FT: Shakhtar Donetsk 4-0 Real Sociedad
FT: Juventus 3-1 FC Copenhagen
FT: Real Madrid 4-1 Galatasaray
FT: Paris Saint Germain 2-1 Olympiakos
FT: RSC Anderlecht 2-3 Benfica
FT: CSKA Moscow 1-3 Bayern Munich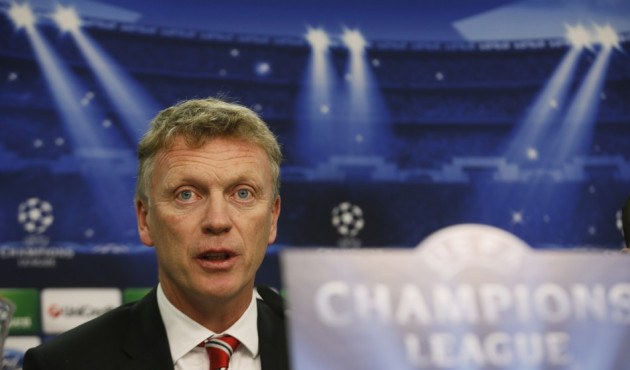 2150: That rounds up our coverage from tonight. Make sure to join us again on Saturday for an exciting day of Premier League action.
2147: Just to round up. Manchester United can finish top of the group if they gain a point in their final group game, while Manchester City coudl also top their group if they can get a result over Bayern Munich at the Allianz Arena which will be a tough task.
2141: So Manchester United, Chelsea and Manchester City are all safely through to the last 16 and Arsenal are on the brink of qualifying as well. Perhaps there is room for some optimism in the English clubs.
2140: Opta Stat: Man Utd have now equalled the biggest margin of victory ever by an English team away in the CL (Chelsea v Galatasaray 5-0 '99). Rampant.
2137: So plenty of goals tonight, 36 in total, and it has been a wonderful night for David Moyes and Manchester United. They demolished Leverkusen and have looked superb in the Champions League this season. They have qualifed for the last 16 but are not yet confirmed as group winners after Shakhtar hit Sociedad for four.
2136: GOAL: PSG 2-1 Olympiakos (Edinson Cavani)
2135: Another cross, this time from James Milner, finds Edin Dzeko at the back post and he easily heads home.
2134: GOAL: Manchester City 4-2 Plzen (Edin Dzeko)
2131: GOAL: Anderlecht 2-3 Benfica (Rodrigo)
2130: GOAL: Shakhtar 4-0 Real Sociedad (Douglas Costa)
2129: The swagger is well and truly back in this Manchester United team. Ryan Giggs plays another wonderful pass which is latched onto by Nani who brings the ball under control and from a tight angle dinks the ball over Leno.
2128: GOAL: Leverkusen 0-5 Manchester United (Nani)
2127: GOAL: Real Madrid 4-1 Galatasaray (Isco)
2125: Even worse defending from Leverkusen and it really should of been five. Anderson drives through the middle of the park before finding Nani on the left flank. The Portuguese winger returns the ball to the Brazilian but he scuffs his shot badly and the Germans are let off.
2124: GOAL: PSG 1-1 Olympiakos (Manolas)
2123: Another Navas cross and another goal for City. This time it is substitute Alvaro Negredo who greedily takes the opportunity presented to him by his Spanish teammate.
2122: GOAL: Manchester City 3-2 Plzen (Alvaro Negredo)
2119: More poor defending from Dortmund as a dreadful clearance is pounced upon by Kagawa who in turn finds Rooney in the area. The England striker could go for goal but instead lofts the ball to the back post and Smalling taps in.
2118: GOAL: Leverkusen 0-4 Manchester United (Chris Smalling)
2115: You can tell that this game doesn't mean much to City. They had the lead for just a matter of minutes before Tecl fires a low shot past Joe Hart's left foot and the England keeper can do nothing to keep it out.
2114: GOAL: Man City 2-2 Plzen (Stanislav Tecl)
2112: GOAL: Shakhtar 3-0 Real Sociedad (Douglas Costa)
2111: City back in front after Jesus Navas delivers into the middle of the penalty area and there is Nasri to sweep the ball home.
2110: GOAL: Manchester City 2-1 Plzen (Samir Nasri)
2109: GOAL: Real Madrid 3-1 Galatasaray (Angel di Maria)
2108: GOAL: Juventus 3-1 Copenhagen (Arturo Vidal - hat-trick)
2107: Sami Hyypia will be disgusted at the defending from his side tonight. A straight forward corner fails to be cleared and with the ball bobbling around in the six yard box, Evans pounces and slots home. Dreadful defending.
2106: GOAL: Leverkusen 0-3 Manchester United (Jonny Evans)
2105: GOAL: Juventus 2-1 Copenhagen (Arturo Vidal)
2104: Now it is Wayne Rooney who curls one just wide from 25 yards. United are absolutely cruising and Leverkusen look decidedly poor.
2100: United really could be out of sight by now. Nani finds acres of space on the right of the area and drives forward before arrowing a shot just past the far post.
2100: GOAL: Juventus 1-1 Copenhagen (Olof Mellberg)
2057: GOAL: Real Madrid 2-1 Galatasaray (Alvaro Arbeloa)
2055: United fans in good voice as they go through the full repertoire of songs. Ryan Giggs and even Cristiano Ronaldo getting their names sung.
2054: GOAL: Anderlecht 1-2 Benfica (OG Mbemba)
2053: There are definitely more goals in this for United. Leverkusen are all over the place at the back and Antonio Valenica is looking a constant threat down the right.
2051: RED CARD: PSG are reduced to ten after Marco Veratti receives a second yellow early in the second half.
2050: GOAL: Shakhtar Donetsk 2-0 Real Sociedad (Alex Teixeira)
2045: We are back underway and it's very surprising how comfortable United look in Europe this season. They have looked very comfortable tonight against a side who are above Dortmund and only a few points behind Bayern.
2034: So as things stand Manchester United will be going through to the knockout stages of the Champions League. They have played with great speed and precision when counter attacking and fully deserve their two-goal lead. Can Leverkusen come back into the game in the second half?
2031: Right on the stroke of half time we have a surprise as Tomas Horava equalises for the Czech minnows. It's a wonderful strike from distance which flies past a helpless Joe Hart.
2030: GOAL: Manchester City 1-1 Plzen (Tomas Horava)
2028: Manchester United look so good on the counter tonight. Ryan Giggs may be the oldest player on the pitch by some distance but he has been superb in picking the right pass at the right time.
2026: We have just seen a brilliant free-kick from Gareth Bale from miles out which swerves, dips and slams into the net, but Madrid aren't ahead of long as just a minute later Galatasaray equalise through Bulat. Great game at the Bernebeu.
2025: GOAL: Real Madrid 1-1 Galatasaray (Umut Bulat)
2024: GOAL: Real Madrid 1-0 Galatasaray (Gareth Bale)
2024: GOAL: Shakhtar Donetsk 1-0 Real Sociedad (Luiz Adriano)
2022: There are few better striker than Sergio Aguero in world football and the Argentinean scores his 16th of the season from the penalty spot to hand City a deserved lead.
2021: GOAL: Manchester City 1-0 Plzen (Sergio Aguero)
2020: RED CARD: Real Madrid are reduced to ten men as Sergio Ramos is shown a straight red.
2019: GOAL: Anderlecht 1-1 Benfica (Nemanja Matic)
2018: GOAL: Juventus 1-0 Copenhagen (Arturo Vidal)
2017: There we are talking damp cheese and the World Cup when we should be talking about Wayne Rooney. The United striker produces a wonderful delivery and Spahic is unfortunate as he heads it past his own keeper.
2015: GOAL: Leverkusen 0-2 Manchester United (OG Emir Spahic)
2014: Leverkusen striker Stefan Kiessling was the top scorer in the Bundesliga last year but Germany manager Joachim Loew is not a fans. That led Kiessling to say this: "At the moment, I've as much interest in the World Cup as damp cheese."
2012: Opta Stat: Three of Antonio Valencia's four Champions League goals for Manchester United have come against German opposition. Familiar.
2008: GOAL: Anderlecht 1-0 Benfica (Chancel Mbemba)
2007: United go straight up the other end and get themselves in front. Wayne Rooney finds some space inside the Leverkusen area and his cross drifts to the back post where Valencia slides in and turns the ball home from a couple of yards.
2006: GOAL: Bayer Leverkusen 0-1 Manchester United (Antonio Valencia)
2005: Great defending from Jonny Evans after Kiessling walks past Ferdinand and looked certain to score. Evans times his tackle perfectly but worrying moments for Moyes.
2004: 20 minutes gone and City haven't scored yet. Come on Pellegrini, what's going on. They have however hit the bar as Samir Nasri thunders a shot against the woodwork from 25 yards.
2003: Son is looking very lively tonight and is finding little pockets of space in front of the United defence. He wins a corner which is headed just over the bar by Spahic.
2000: First shot from United after some good play from Ryan Giggs who picks up Nani just inside the area. He gets the ball out of his foot and looks to curl one into the top corner, however, it flys just over the bar.
1958: Zlatan scores in his 100th Champions League appearance. What a player he is.
1956: GOAL: PSG 1-0 Olympiakos (Zlatan Ibrahimovic)
1954: Dortmund looking very impressive when they have the ball as they have some very tidy players in midfield and up front. Son Heung-Min in particular is extremely highly rated.
1949: Not sure Joe Hart would have expected to be called into action this early but the England keeper easily claims a Plzen free kick.
1946: We could have had a very early goal in Germany as Wayne Rooney is caught just offside after being fed through a lovely pass from Kagawa. A close call but perhaps just the right one.
1945: And we are underway across Europe.
1940: Not long till kick-off now so what are we all thinking. Fancy it will be a very tough night for United in Germany, but City should be looking for a similar scoreline to the weekend.
1935: Manchester City name 20-year-old Welsh midfielder Emyr Huws on the bench tonight. He was struggling to get a game on loan at Northampton last season and now he could play in the Champions League. Big night for the youngster.
1930: Moyes on how United can beat Leverkusen.
"Hopefully by keeping the ball and taking the sting out of the game, they have a good record in the Bundesliga. I want to go and win the game, we had a convincing win in the first game and the idea is to do it again tonight. We will have to defend but we want to get our attackers on the ball to cause them problems.
"They have very narrow forwards, their full-backs get forward so they will cause us problems with their rotation but they are a big side too so we must defend well at set-pieces."
1928: Sami Hyypia chatting with his former Liverpool teammate Jamie Carragher on Sky Sports at the minute. I wonder if one day they will form part of the Liverpool coaching team. Big Sami as manager and Carra taking the role of Phil Thompson by screaming on the sidelines. I could see it working.
1925: Team News from the Etihad Stadium.
Man City: Hart, Richards, Demichelis, Lescott, Kolarov, Milner, Javi Garcia, Fernandinho, Nasri, Aguero, Dzeko. Subs: Pantilimon, Zabaleta, Negredo, Jesus Navas, Boyata, Toure, Huws.
Plzen: Kozacik, Rajtoral, Cisovsky, Prochazka, Hubnik, Petrzela, Horava, Horvath, Duris, Kolar, Tecl. Subs: Bolek, Hejda, Reznik, Wagner, Kovarik, Bakos, Pospisil.
Referee: Firat Aydinus (Turkey)
1920: We've had one result already this evening as Bayern Munich secured their tenth consecutive victory in the competition with a 3-1 win over CSKA in a snowy Moscow. Can anyone stop Pep Guardiola's side.
1915: As we mentioned earlier it is going to be a tough task for United tonight. In the Champions League, only Barcelona have won in Leverkusen since Liverpool did in 2005.
1914: Team News from Germany.
Bayer Leverkusen: Leno, Donati, Spahic, Toprak, Can, Bender, Reinartz, Rolfes, Castro, Kiessling, Son. Subs: Lomb, Stafylidis, Wollscheid, Derdiyok, Hegeler, Kruse, Kohr.
Man Utd: De Gea, Smalling, Ferdinand, Evans, Evra, Giggs, Jones, Valencia, Nani, Kagawa, Rooney. Subs: Lindegaard, Anderson, Hernandez, Young, Welbeck, Cleverley, Buttner.
Referee: Svein Oddvar Moen (Norway)
1912: Back to Manchester United and they will be without Robin van Persie and Nemnaja Vidic tonight. The Serbian defender is recovering from his concussion while the Dutch striker has a groin problem.
1910: While United still have some work to do to reach the last 16, Manchester City have already qualified for the knockout stages of the competition and will be looking to hand opportunities to some of the fringe players.
Joe Hart is set to return but Stevan Jovetic and forward David Silva are both injured as Manuel Pellegrini's side look to produce a repeat performance of the 6-0 thrashing they handed out to Tottenham last weekend.
1900: So another evening of Champions League football is upon us and tonight we will learn a lot about David Moyes and this Manchester United team. Victory will see them through to the knockout stages but it will not be easy against a Leverkusen side who are three points ahead of Borussia Dortmund and second only to Bayern Munich in the Bundesliga table.
Former Liverpool defender Sami Hyypia has them playing some wonderful football and they have recorded eight consecutive home victories in the Champions League group stages. United won the reverse fixture 4-2 but the German side have picked up seven point in the following three games.