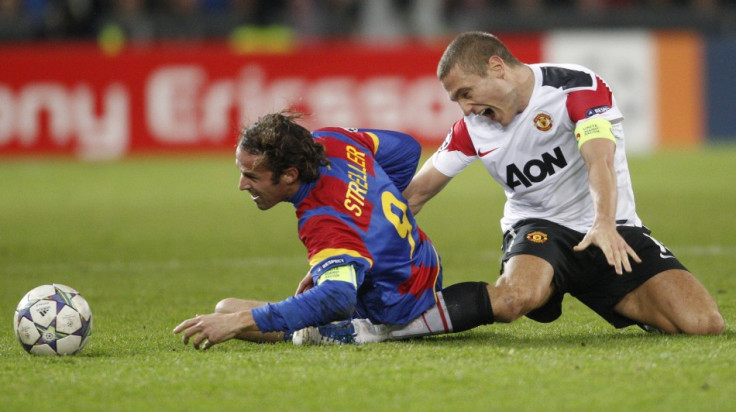 Nemanja Vidic's agent has insisted that the defender won't be discussing a move away from Manchester United, though he has revealed that his client will be out for 'several months' after injuring his cruciate ligament at the weekend.
Vidic had to leave the pitch at the end of the first half in the Champions League this week, as the Red Devils were knocked out of the European tournament after a shock 2-1 loss to Swiss side Basel.
And while transfer speculation continues to chase the Serbia international, agent Silvano Martina believes that now is not the right time to talk about moves away from United.
"The interest of Juventus? It seems to me out of place to talk about it, after the injury to the cruciate ligament yesterday," he told calciomercato.com.
"He'll be out of action for several months, so even if it were true, now it would have no sense to talk about it.
"In any case, there never was anything concrete, but the media sometimes don't know what to write.
"Interest from other clubs? In the market a club comes forward for a player when they know that something is broken between him and his current side."
United are without a mammoth nine players going into their tie with Wolves this weekend, with Fabio and Rafael de Silva, Tom Cleverley, Anderson, Ashley Young, Javier Hernandez, Dimitar Berbatov and Michael Owen out along with Vidic.
Vidic has been an integral part of United's squad over the past five seasons, and during the time that he was out injured at the start of their current campaign, the side were clearly missing support in their defensive line up.
The injuries bring into question whether Sir Alex Ferguson will go against his usual mantra of not buying players in the January transfer window to build on the squad. Defenders are definitely going to be on the United manager's agenda, and despite having a large group of strikers available, with injuries piling up Ferguson may decide that a hitman is needed as well.
And with Vidic looking likely to be out until at least the end of the season, Ferguson will be looking for experience to take a leadership position with youngsters Phil Jones, Chris Smalling and Cleverley surrounding him.