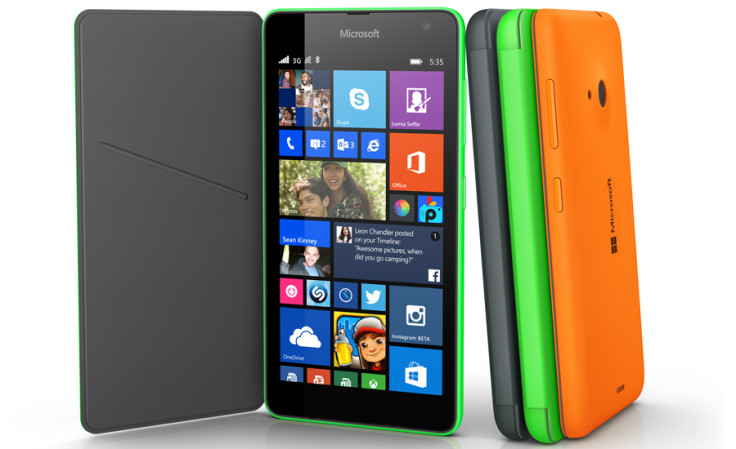 Microsoft Lumia 535 has been drawing attention from across the world, ever since it was launched officially in a few countries across the world.
Now, the pure mid-range smartphone is finally available for purchase in the United Kingdom.
Unlocked Mobiles has opened sales for Lumia 535, and an unlocked variant of the handset is available for purchase at £95, with the retailer even claiming to deliver the device the very next day after ordering.
The sub £100 smartphone is available in three colour variants - black, white and orange.
Microsoft's Lumia 535 is covered under a full 24-month manufacturer warranty.
Click here to navigate to Unlocked Mobiles and order the SIM-free Microsoft Lumia 535.
Lumia 535 is first in Nokia brand eradication strategy by Microsoft
The Devices and Services business of Finnish technology company Nokia, which was taken over by Microsoft in April 2014, has since faced a series of branding revamps.
Microsoft is squeezing out mention of Nokia, although for now it is sticking with the Lumia device brand. Windows Phone is also on its way out, and Microsoft will soon have created a world in which its devices are simply Microsoft branded using the Windows operating system.
In the case of the freshly announced Microsoft Lumia 535 smartphone, the only branding on the device is Microsoft.
The Lumia 520 was awarded the sobriquet of a 'best-seller' within its range in 2013, hence Lumia 535 could replicate the 520's success considering the former comes with better features, like the Microsoft Cortana voice assistant.
Lumia 535 in the US
If you are eager to lay your hands on the low-cost Lumia 535 in the United States of America, then check out Expansys, which has priced the non-Nokia phone at $130 and claims to make delivery in four days.
Amazon US has also listed the device as being 'In Stock', and the e-tailer has priced the mid-ranger at $175.
Also, Amazon states that only four Lumia 535 units are available for ordering at this point in time.
Click here to navigate to Amazon US now.
Key features and technical specifications of Microsoft Lumia 535
One of the major features of Microsoft Lumia 535 is Redmond's personal digital assistant (PDA) Cortana which comes built in within the smartphone, instead of users having to wait for exclusive software updates to test out Cortana.
The Windows Phone 8.1 running smartphone Lumia 535 also supports Skype Video Calls and Microsoft Office application suite.
Prominent hardware aspects of Lumia 535:
5in IPS display enclosed within Gorilla Glass 3
Microsoft Windows Phone 8.1 operating platform
Quad-core Qualcomm Snapdragon 200 processor, clocked at 1.2GHz
Dual SIM-card support
5MP primary camera
5MP secondary camera
1GB RAM
8GB internal storage
MicroSD card slot for expansion of internal storage, up to 128GB
3G, Bluetooth 4.0, Wi-Fi and microUSB connectivity
1905 mAh Li-Ion battery, with a claimed talk-time of up to 13 hours on 3G, and a music playback time of up to 78 hours
The 5MP primary and 5MP secondary cameras are an attractive feature within Lumia 535