For the first time in 78 years, a hurricane is forming over the Atlantic Ocean, and it's due to climate changes and warming water, say meteorologists. Hurricane Alex is packing sustained winds of 85 mph about 350 miles (563 kilometers) south of Portugal's islands, the Azores.
The Azores government has already issued hurricane warnings for the most of the islands. Only 10 hurricanes on record have come within 200 miles (322 kilometers) of the Azores, and every one of them has occurred in August or September.
"Alex is in a rare spot for September, much less January," tweeted Eric Blake, a forecaster at the National Hurricane Center. "It is only the second hurricane on record to form north of 30N (latitude) east of 30W (longitude)."
"It's rather surprising and remarkable," Richard Pasch, senior hurricane specialist for the US National Hurricane Center, told NPR. "It's a pretty rare event."
Alex has strengthened over waters that are usually not warm enough to support hurricane activity, but that's different these days. Tropical storms thrive most over warm waters, something that's unexpected in the North Atlantic in the middle of winter. The Atlantic hurricane season runs from June 1 to November 30.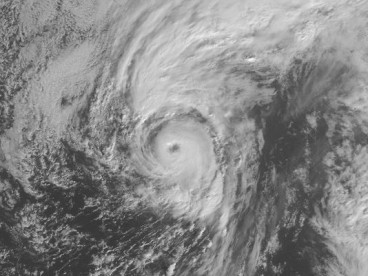 While the waters where Alex has developed are not characteristically warm enough for hurricane formation, they are warmer than normal, which is helping the storm acquire tropical characteristics and is setting up prerequisites for the system's behaviour, according to Weather Underground meteorologist Jeff Masters.
Alex has been tracking over water "near-record warm for this time of year," he wrote. "These temperatures were just high enough so that Alex was able to gradually gain a warm core."
The contrast between the warmer surface waters and unusually cold air at high altitudes has created a volatile corridor of air, fostering the storm's development. "The resulting instability is likely the main factor contributing to the tropical transition and intensification of Alex," noted a statement from the National Hurricane Center.
Alex is just the fourth named hurricane to form in the Atlantic in January since 1851.