Emmanuel Macron won the French presidential election after facing off against Marine Le Pen in the final stage of the vote, defeating the Front National candidate comprehensively.
But in the build-up to the election, the 39-year-old Macron, who ran under the banner of his recently formed En Marche! party despite having served as minister of the economy in the socialist government between 2014 and 2016, made headlines for reasons other than his political acumen.
His wife Brigitte was, in fact, his high school teacher and the story of their unusual romance became a well-publicised story during the campaign.
In his latest book and political manifesto Revolution, Macron described the affair as "a love often clandestine, often hidden, misunderstood by many before imposing itself," as reported by the BFMTV channel.
More details about the relationship were revealed in a documentary produced by France 3 and aired shortly after Macron launched his candidature in November
Brigitte, whose maiden name is Trogneux, but was known as Auzière at the time as she was married, was Macron's theatre and French teacher at the private Catholic high school La Providence, in the town of Amiens in northern France.
Macron was 15 at the time (which is also, incidentally, the age of consent in France) and the romance with his teacher, 25 years his senior, blossomed as the two worked together on adapting an Italian play by legendary playwright Eduardo De Filippo, The Art of Comedy.
"We wrote and little by little I was totally charmed by his intelligence," Brigitte said in an interview in the France 3 documentary. "He wasn't like the others," she added, explaining he had mature relationship with the adults in his life, whom he treated as equals.
According to the newspaper Le Parisien, which conducted interviews with Macron's former classmates at La Providence, he became the teacher's pet. "In class, she always used him as an example. She was completely charmed by his literary talent. He wrote poems all the time and she read them out loud."
Brigitte did not hide his admiration for young Macron's intellect, "Emmanuel's skills are totally above average. You can say I say this because we're married, but this is the teacher speaking," she said in the interview.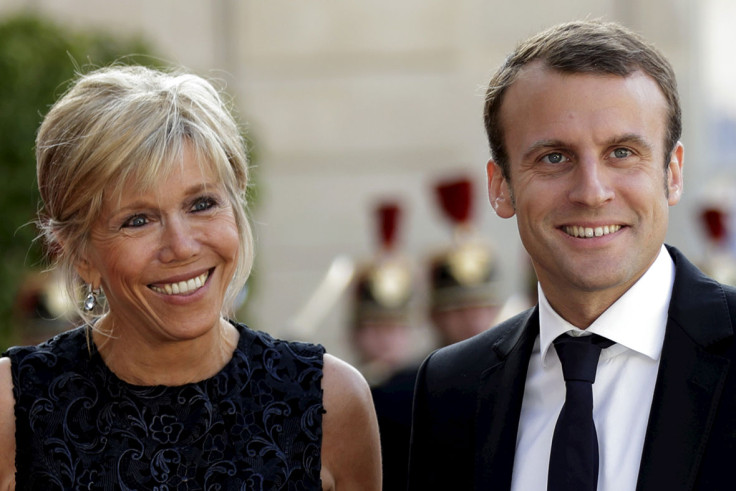 By the end of the school year of 1993-1994, the then 16-year-old Macron confessed his love. According to some accounts, his parents, who opposed the union, made him leave Amiens. According to the France 3 documentary, it was Brigitte who persuaded him to leave and start school in Paris, more or less 150km away. Before he left, the young man promised: "I will come back and I will marry you."
The two kept in touch. "We talked for hours over the phone," Brigitte recalled, describing how he won over her resistance, "with patience" she described. Brigitte divorced her husband and moved to Paris with her lover once he turned 18 and the two became an official couple.
They got married in 2007 as Macron was embarking on his political career. In his wedding speech, shown in the documentary, a visibly emotional Macron thanked the people who attended the ceremony for "accepting" the couple and supporting their relationship throughout the years and what has become of it: "That is to say, maybe something not quite common, a couple not quite normal – not that I like this adjective very much – but a couple that exists."
Macron's rivals did not have such compelling tales of star-crossed love to win the hearts of the electorate, yet their personal lives are very much intertwined with their political career. On the side of the conservative Les Republicans party, candidate Fillon's relationship with his Welsh wife Penelope is facing increasing scrutiny, and pressure to drop out of the race, due to more than €800,000 (£ 690,000) paid to his spouse, who was supposedly working for him as a legislative aide.
The twice-married Front National leader Le Pen has found a new companion in Louis Aliot, a fellow party member who has become member of the European Parliament and party's vice-president since the two started their relationship. Le Pen is also embroiled in a financial scandal, involving €339,000 (£289,000) demanded by the European Parliament after an investigation discovered that her bodyguard and a staff member of the party were receiving stipends as parliamentary assistants.
Indeed, French presidents are known to have turbulent personal lives. To quote the most recent examples, former president Nicolas Sarkozy divorced his second wife and married former supermodel and singer Carla Bruni in 2008, within his first year in office.
Former president Francois Hollande was in a relationship for more than 30 years with fellow Socialist and with former presidential candidate Segolene Royal, with whom he had four children.
The two separated soon after her defeat to Sarkozy in 2007 and he became romantically involved with tabloid journalist Valerie Trierweiler. They separated in 2014, while Hollande was serving his second year in office, as he was rumoured to have an affair with actress Julie Gayet.