Motorola Moto 360 Smartwatch Update Brings New Watch Faces, Customised Moto Body Health App: Check It Out Now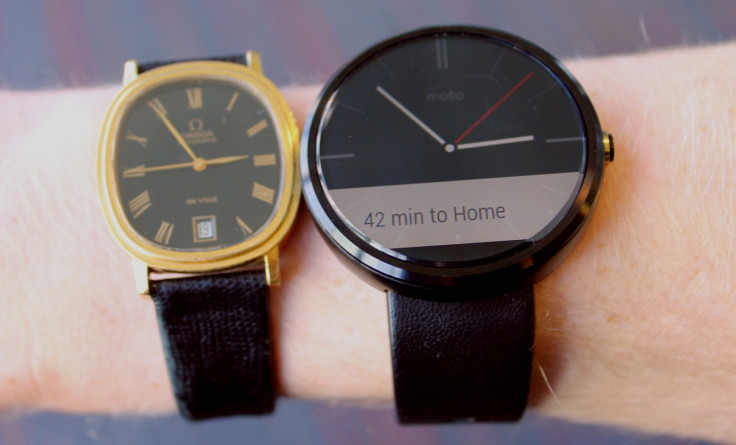 An update to Motorola's Moto 360 smartwatch is now seeding, and the latest enhancement brings along new features.
First up, the Moto Connect app has been improved, and brings eleven new round watch faces for users to choose from. Users can now change the watch hand, background colours and also choose different time zones in dials.
The new update also makes it possible to create personalised watch faces by manually uploading pictures.
Next, there is the Moto Body that helps users keep track of steps, distance, amount of calories burned during an activity and the heart rate.
Moto Body is similar to Google Fit, and suggests activity goals. The best part about Moto Body is that it provides 'coaching advice' to users based on frequent activities.
All the above features are part of the Motorola Connect application which can be downloaded from the Google Play app repository.
The Motorola Connect package works with the following devices:
Motorola 360
Motorola Power Pack Micro 1500
Motorola Keylink
Motorola Connect PC Extension available on Moto X, Droid Ultra, Droid Maxx and Droid Mini smartphones
Where to order Moto 360 in UK?
Buyers can reserve Moto 360 Smartwatch units on Amazon which has put a price tag of £199.99 on the device. However, the smartwatch is currently unavailable on Amazon, but customers can sign-up to get notifications about the device's availability.
Click here to navigate to Amazon now.
Apart from Amazon, O2 is also taking orders, and the Moto 360 has an identical price tag of £200.
Click here to navigate to O2 now.
Another major UK e-retailer accepting pre-orders is Clove, which is currently offering limited stocks of Moto 360 at £199.9 (including VAT). Colour schemes offered are Grey and Black.
Click here to navigate to Clove now.
Key technical specifications and features of Moto 360 smartwatch
Motorola's Moto 360 incorporates a circular outer body design, and has a 1.5in LED touchscreen with a resolution of 320 x 290 pixels, and the entire display is enclosed within the Gorilla Glass 3 protective casing.
Moto 360 also provides health monitoring features -- the heart rate monitor and the built-in pedometer. These features allow users to monitor and track steps while walking/jogging.
The smartwatch is also water-resistant, and is claimed to survive in depths of up to 3.3 feet for 30 minutes. There is also a built-in microphone for users to communicate with the device via voice commands.
Users of the device also get constant notifications via the 'Vibration Alerts' feature.
Besides, the smartwatch can be used to wirelessly read text, respond to emails, check flight status and obtain traffic updates even when users are on the go.
Compatibility
Moto 360 running Google's Android Wear operating platform is compatible with all Android smartphones running Android 4.3 and above versions.
© Copyright IBTimes 2023. All rights reserved.