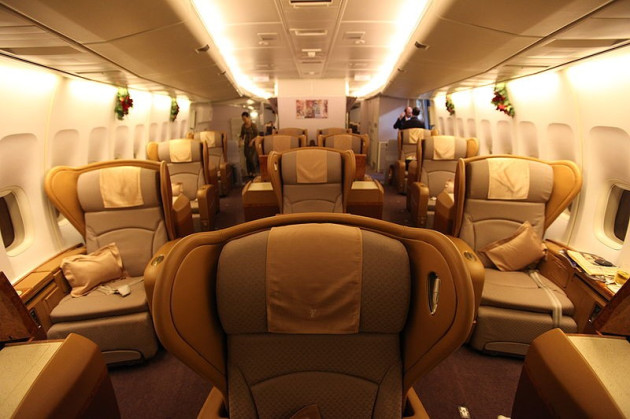 Women wearing revealing clothes are least likely to get a upgrade to first class on flights, whereas single men in their 30s are most likely, a survey has found.
A poll of flight attendants by travel website Skyscanner looked at the tricks of the trade when it comes to getting bumped up to first class.
The survey found that 61% of cabin crew had given a passenger a free upgrade.
However, it also showed that women dressed in revealing clothing or teenage girls travelling in a group were unlikely to get upgraded.
On the other end of the spectrum, smartly-dressed men who are in their 30s and travelling alone were highly likely to enjoy a first class seat for free.
Of the flight attendants surveyed, 72% said they were more likely to offer an upgrade to a lone traveller, while people who were injured also had an increased chance of a first class seat.
Other factors that increased the chance of a free upgrade were being on your honeymoon (58%), travelling at unpopular times (47%) and giving the cabin crew a sob story (35%).
Tika Larasati, Skyscanner's market development manager for Indonesia, said: "Tears of a drama queen can work, either out of sympathy or to get you away from the other passengers."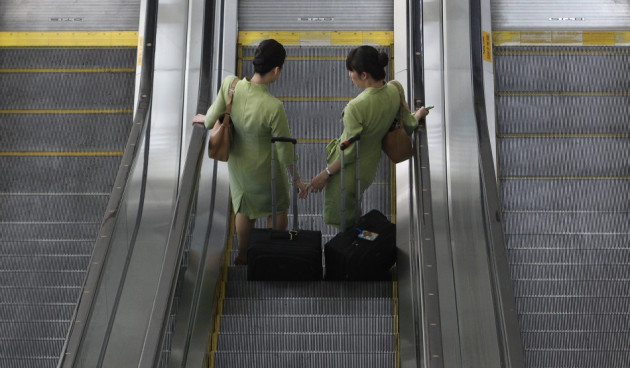 The best way to get a free upgrade, however, was being friendly and polite, with 82% saying they would bump a passenger up for this reason.
Andrew Phillips, technical manager at the travel company, shared one of his experiences: "Flying to the US a few years ago, I boarded the plane late (as usual) and there was an old chap sitting down in my seat.
"The stewardess (who I'd chatted to on the way in) was nearby and heard the guy saying he just wanted to sit next to his wife. I told her I didn't mind sitting in his seat (it was the row behind I think) and off she went only to return five minutes later. She asked me to follow her all the way up to business class!"
In a separate Skyscanner survey, travellers said they had tried a number of tricks to get a free upgrade, with 14% falsely claiming to be newlyweds and 6% pretending to be ill or injured.
Weighing up the pros and cons of asking for an upgrade, Skyscanner said it is probably best not to. Bryony Smith, a market development manager for the company, said: "On our honeymoon to Mexico we were seated in economy. Ten minutes before departure we noticed that the flight was half-empty, including business class.
"We told the stewardess that we were on our honeymoon and could they upgrade us. She went away to check, came back and said no, but congratulations here's a glass of bubbly! The flight was half empty!"