The US is about to start swapping refugees with Australia under a deal Trump called 'dumb'
President Trump infamously attacked the Obama-era resettlement deal in a spat with Malcolm Turnbull.
Australia will welcome dozens of Central American refugees over the coming months, the first people to be transferred under a controversial swap arrangement with the US, which President Donald Trump infamously called a "dumb deal."
Sources familiar with the process told Reuters that around 30 refugees from El Salvador will move to Australia in the next few months. A second group is expected to follow shortly afterwards. They are currently being held in Costa Rica, where they will be processed before being moved on to either the US or Australia.
"The group have been vetted and will likely move in the (northern hemisphere) fall," said one unnamed source.
Australia has promised to take in an unspecified number of Central American refugees under a deal struck by former US President Barack Obama.
In exchange, Washington said it would accept up to 1,250 refugees living in detention centres on Papua New Guinea and the island of Nauru in the central Pacific.
During his first phone call with Australian President Malcolm Turnbull, Trump slammed the agreement, labelling it a "dumb deal".
After he abruptly ended the conversation, Trump took to Twitter to express his anger. "Do you believe it? The Obama Administration agreed to take thousands of illegal immigrants from Australia. Why? I will study this dumb deal!" he wrote.
Turnbull told Australian media that he expected the president to honour the US' "clear commitment" to the deal.
When the two world leaders met in New York several months later, the hostility seemed to have evaporated, with Trump describing his relationship with Turnbull as "fantastic."
The Trump administration has said it will honour the agreement to maintain its strong relationship with Australia, subject to the refugees passing US immigration's strict vetting checks.
So far none of the 900 refugees living on Manus Island or the 1,100 refugees on Nauru have been approved to move to the US yet. Earlier this month, US officials halted screening interviews after the US reached its annual refugee intake. The clock is ticking as the centre on Manus will close at the end of October, following a court ruling.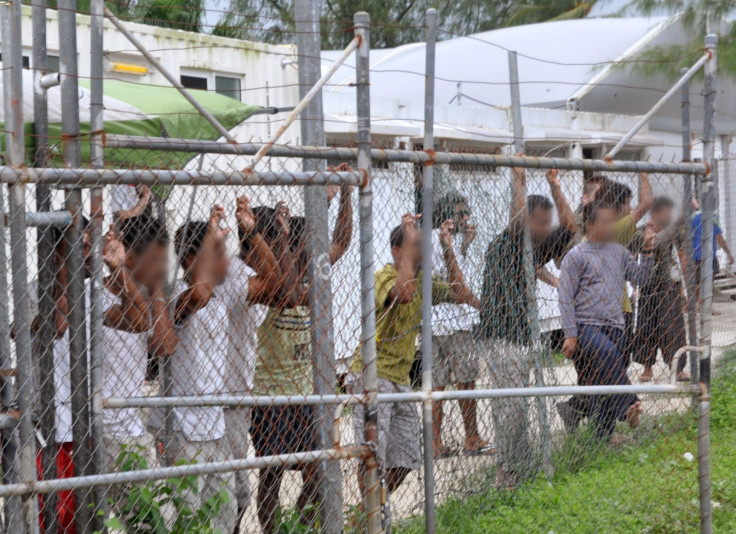 On Monday 24 July, the UNHCR accused Canberra of backtracking on its promise to reunite refugees living on the islands with close relatives in Australia. The Australian government claims that no such promise ever existed.
The UN high commissioner for refugees, Filippo Grandi, said: "The UNHCR exceptionally agreed to help with the relocation of refugees to the United States following a bilateral agreement between Australia and the US. We agreed to do so on the clear understanding that vulnerable refugees with close family ties in Australia would ultimately be allowed to settle there.
"[But] UNHCR has recently been informed by Australia that it refuses to accept even these refugees. This means, for example, that some with serious medical conditions, or who have undergone traumatic experiences, including sexual violence, cannot receive the support of their close family members residing in Australia."
A UNHCR spokeswoman told IBTimes UK: "The UNHCR now has no other option but to refer the refugees with close family ties in Australia to the US for resettlement. This follows Australia's recent advice to us that they would not accept even a handful of refugees with close family links in Australia."
© Copyright IBTimes 2023. All rights reserved.