US President Donald Trump and Australian Prime Minister Malcolm Turnbull cleared the air about a tense phone conversation they held back in February during their first face-to-face meeting on Thursday (4 May).
The two leaders declared that they had a "great call", with Trump adding that "we're not babies".
"Young at heart," Turnbull responded to Trump's remarks, as he joined the president at a gala dinner to celebrate the 75th anniversary of the Battle of the Coral Sea in New York City.
Trump reportedly had a less than cordial call with Turnbull, with media reports suggesting that a planned hour-long exchange was abruptly ended 25 minutes in after the US president berated the Australian prime minister over a refugee swap agreement. Trump allegedly even went on to tell Turnbull that of the five conversations he had had with world leaders that day, including a call with Russian President Vladimir Putin, "This was the worst call by far."
However, the acrimonious call that strained the ties between the two sides is reported to have not affected their meeting.
"They said we had a rough phone call. We didn't really have a rough phone call," Trump said of the conversation to Reuters. "It got a little bit testy. But that's okay."
During a photo session with his guest later in the evening, the American president also said that he gets along well with Turnbull.
"We get along great. We have a fantastic relationship, I love Australia, I always have," Trump said.
The president also said he would visit the Oceanic country sometime and called it "one of the most beautiful places on earth".
Relations between the two leaders soured after Trump hesitated to honour a refugee deal to accept 1,250 refugees held in Australia's offshore detention centres. The agreement was signed by the Obama administration in December 2016.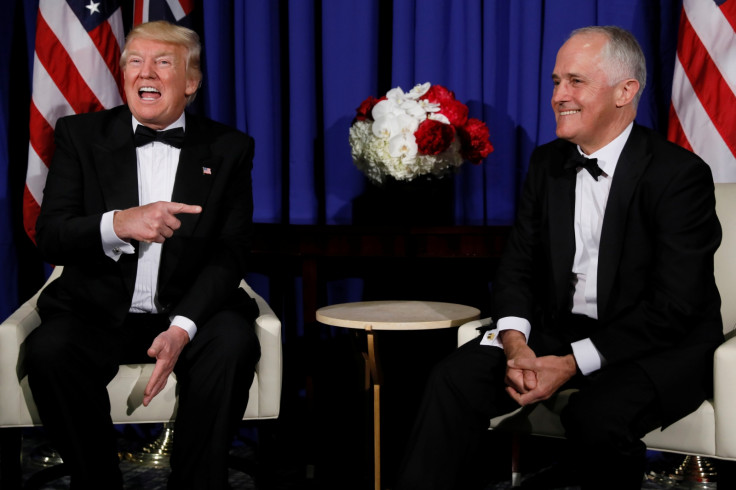 Turnbull is said to have irritated Trump during his phone call as he reportedly expected the American to honour the deal.
Speaking of the deal on Thursday, Turnbull said: "We can put the refugee deal behind you and move on."
Australia is one of the US' staunchest allies and troops from the two countries have fought together in all major conflicts, including Afghanistan and Iraq.
Meeting on board the USS Intrepid, a World War 2 aircraft carrier, Turnbull and Trump also touched upon issues related to North Korea. Both Australia and the US are against Pyongyang's nuclear and missile programmes, Turnbull said.
"Today and together, we condemn and we resist North Korea's provocation," he said.