US Vice President Mike Pence has confirmed that the Trump administration will honour, although not necessarily admire, the controversial refugee swap deal with Australia. The deal struck by former president Barack Obama was publically labelled a "dumb" agreement by President Donald Trump.
"We will honour this agreement out of respect to this enormously important alliance," Pence, who is currently on a visit to Sydney, said on Saturday (22 April).
However, the deal will still be subject to vetting measures. That the US honouring it "doesn't mean that we admire the agreement", he added.
Pence was speaking at a joint news conference after holding talks with Australian Prime Minister Malcolm Turnbull at the latter's official residence in Sydney.
Under the deal signed in late 2016, the White House had agreed that Australia would send to the US refugees from Afghanistan, Iran and Iraq who arrive at its offshore processing centres in Papua New Guinea and Nauru. In return, Canberra would help resettle refugees from El Salvador, Guatemala and Honduras.
Earlier in February, the White House had said that Trump's executive order on "extreme vetting" would apply to more than 1,000 asylum seekers detained in Australia's remote processing centres, seeking to be resettled in the US.
Local media reported that neither Pence nor Turnbull revealed how many refugees would be resettled under the agreement, to begin with.
Trump had earlier cast doubts over the deal and reportedly had a less than cordial call with Turnbull late in January. Media reports suggested that a planned hour-long exchange was abruptly ended 25 minutes in after Trump berated Turnbull over the refugee agreement. Trump allegedly even went on to tell Turnbull that of the five conversations he had had with world leaders that day, including a call with Russian President Vladimir Putin, "This was the worst call by far."
However, the Australian prime minister soon dismissed speculation about their phone conversation and about the refugee swap deal, although he said he was disappointed that the details of his call with Trump were made public.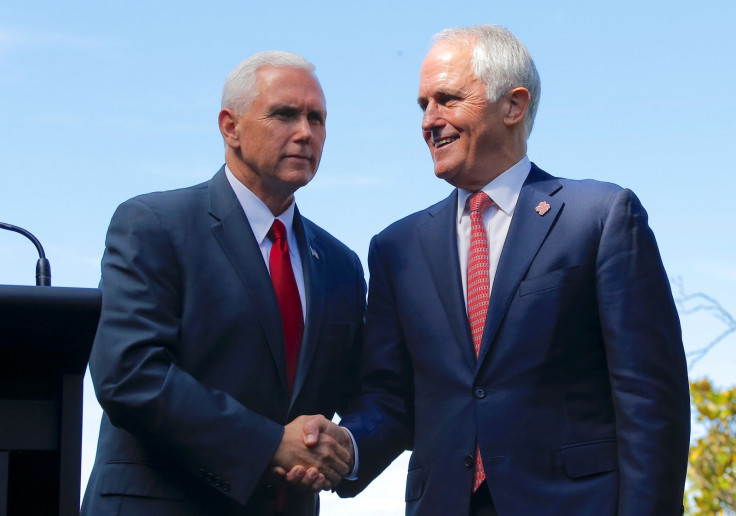 Relations between the two sides appeared to have warmed since then, BBC noted.
During the news conference with Turnbull, Pence also spoke about US' military cooperation with Australia — one of its closest allies. His trip to Australia — part of a 10-day tour of the Asia-Pacific region — is the first by a senior official in the Trump administration.