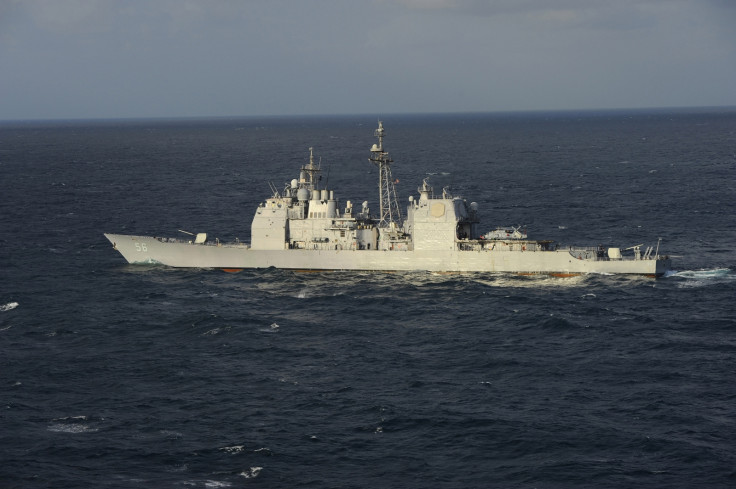 The US has accused Russia of "highly unprofessional" conduct after a warship carried out a manoeuvre in close proximity to a US Navy ship. The incident in the Mediterranean saw Russian frigate Yaroslav Mudryy come "unnecessarily close" to USS San Jacinto on 30 June.
According to reports, the Russian ship came within 140 metres of the American cruiser. "The closing distance by Yaroslav Mudryy before the ship turned away from USS San Jacinto is considered a high-risk manoeuvre, highly unprofessional, and contrary to international maritime regulations," Reuters quoted an unnamed US defence official as saying.
The official added that the US ship was not in danger, but criticised Russia's actions. "Conducting aggressive, erratic manoeuvres and moving unnecessarily close to another ship in open ocean is inconsistent with prudent seamanship," they added.
The latest encounter comes hot on the heels of another close call involving the Yaroslav Mudryy, which took place on 17 June. In that instance, the Russian frigate and the USS Gravely – a guided missile destroyer – came within touching distance of one another. Both sides dispute the events.
US officials labelled Russia's operations "unsafe and unprofessional". The Russian defence ministry said: "The USS Gravely came dangerously close to a Russian warship, 60 to 70 metres from the left side, and crossed the path of frigate Yaroslav Mudryy at the dangerous distance of 180 metres from the bow.
"The US sailors, in particular, neglected Rule 13, which stipulates that an overtaking vessel must keep out of the way of the vessel being overtaken."
Following the latest episode, the US expressed concern, saying such "actions can unnecessarily escalate tensions between countries, and could result in dangerous miscalculations or accidents".