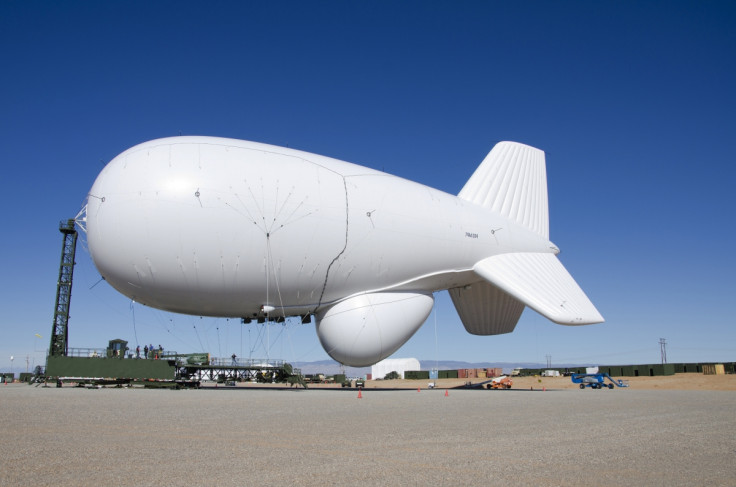 An unmanned US Army surveillance blimp tore loose from its ground tether in Maryland on 28 October and drifted northward before crash landing in Pennsylvania, authorities announced. The blimp, known as a Joint Land Attack Cruise Missile Defense Elevated Netted Sensor System (JLENS) surveillance aerostat, reportedly trailed more than a mile of one-inch cable as it made its runaway journey.
According to NBC News, the 243 feet long blimp broke from its ground tether at Aberdeen Proving grounds at around 12.20pm. North American Aerospace Defense Command (NORAD) reported at around 2pm that the blimp was holding at around 16,000 feet over Wilmington, Pennsylvania. USA Today reported the blimp's trip ended about 4pm.
Two F-16 fighter jets were scrambled from Atlantic City, New Jersey to track the blimp's route. The blimp was finally reported on the ground in Moreland Township, Pennsylvania. NORAD said that no injuries had been reported and that a military recovery team was on its way to the grounded blimp.
NBC News reported that the F-16s were armed but did not shoot the blimp down. The blimp's tail section detached about a quarter-mile from where the rest of the blimp landed, NORAD officials said. Officials added that although ground controllers at Aberdeen Proving Ground have the ability to deflate the blimp, it is not immediately clear if they used that system.
Pennsylvania Governor Tom Wolf's office announced that the blimp's dragging tether caused power outages throughout the state. PPL Electric reported that 30,000 people lost power, with 15,000 still without electricity in the afternoon.
NORAD officials worked with the Federal Aviation Administration to keep commercial airlines informed about the blimp's location to avoid any incidents. Officials added that it was still attempting to determine how the blimp got free.
According to USA Today, when on duty, the blimp serves as a key component of domestic air defence. It is designed to detect cruise missiles, rockets, drones and other weapons looking to attack targets in the US.