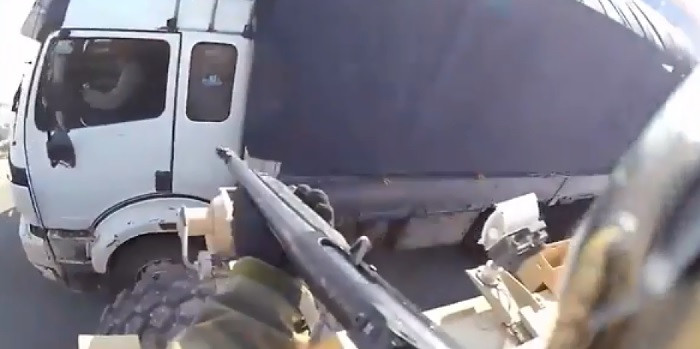 The US Army is investigating after a "concerning" video emerged showing what appears to be a service member firing a weapon through the driver's window of a civilian truck in Afghanistan.
The footage, which was posted onto YouTube before being taken down, appears to be filmed on a helmet-cam taken by someone travelling on a military vehicle.
As the vehicle passes the civilian truck, a round – believed to be non-lethal such as a beanbag – is fired into the window, shattering it. The clip was contained in a video entitled Happy Few Ordnance Symphony Combat Footage Afghanistan.
Discussing the brief clip, the US Central Command told Politico: "The amateur video posted on a public website gives us serious concern.
"The video in question is not official, not authorised and does not represent the professionalism of the service members of US Central Command.
"We are conducting an investigation into this video, and will take appropriate actions as a result of this investigation."
The footage, believed to have been filmed in 2017, has not been verified.
Elsewhere in the footage, US troops from forces such as the Green Berets and Marine Raiders are seen firing machine guns and rockets as well as calling in air strikes, also filmed via helmet cam.
Politico reports the clip is similar to other video montages set to music that US troops share among themselves.
The footage is reported to have been filmed in Afghanistan's Nangarhar province, where Isis fighters have developed a stronghold.
Discussing the footage, Army General Joseph Votel, head of Central Command, added: "I have reviewed the video and I am disappointed and also concerned that the American people, our Coalition partners, the Afghan government, and the Afghan people will believe that American service members are callous and indifferent to the horrors of war or the suffering of innocent people trapped in conflict.
"I can assure you that this video does not represent the professionalism or humanity of the men and women of US Central Command. We reject the unprofessional and callous message this video conveys."