US-backed assault near Isis-held Tabqa Dam halted to avoid 'catastrophic' flooding
UN has warned that flooding from the dam could be "potentially catastrophic" for those areas downstream.
Syrian paramilitary forces, backed by the United States, have temporarily paused their assault near Tabqa Dam over fears damage caused in the battle for control of the hydroelectric facility could result in it bursting to unleash a deadly wave of floods on the surrounding countryside.
The predominantly Kurdish Syrian Democratic Forces (SDF) – which also comprises Syrian Arab fighters – has been fighting Isis in and around the dam its nearby city west of their stronghold of Raqqa. The assaults are part of the wider campaign to expunge Isis from Raqqa, the militant group's de-facto capital in Syria.
Islamic State captured the dam and a nearby air base, located about 40 km (25 miles) upstream from Raqqa, at the height of its military incursion across Iraq and Syria in the summer of 2014.
Fears are now growing over US air strikes near the dam, with high water levels and the possibility it could have been rigged with explosives by Isis. The UN has warned the flooding could be "potentially catastrophic" for those areas downstream.
"To ensure the safety of the Euphrates dam . . . we have decided to halt operations around the dam for hours," the SDF's Raqqa campaign said in a statement.
The dam, Syria's largest, stretches 4.5 km (2.8 miles) across the Euphrates river. The SDF has said it paused its assault at the request of the Assad regime's water authority. The governmental body has blamed US bombing raids over the past two days for disrupting internal control systems and putting the dam out of service – and is to send engineers to asses the damage.
The US and its allies have said Isis forces deliberately used the dam as a command and control centre because it could not be bombed without its structure being damaged.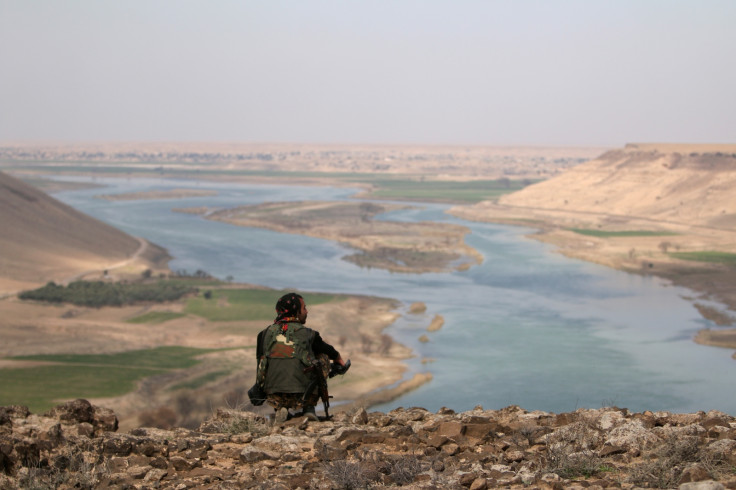 The SDF gained control of Tabqa military airport on Sunday (26 March). At the same time, as the coalition air strikes accelerated in recent days, hundreds of civilians and families fled to safer areas, Reuters reported.
The UK based Syrian Observatory for Human rights said that at least 90 people were killed in the latest campaign of coalition air strikes on Tabqa and the western Raqqa province.
Last week, the Pentagon said that it had airlifted local ground forces to place them behind Isis front lines, in a move to capture the Tabqa Dam.
© Copyright IBTimes 2023. All rights reserved.