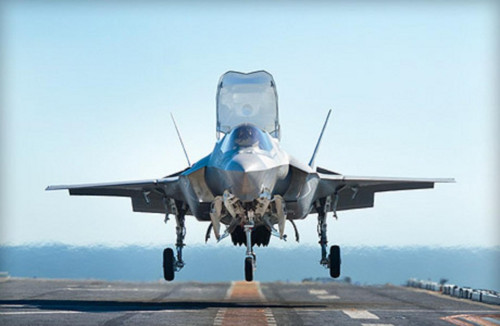 US defence department has continuously waived laws to allow the use of Chinese components in its defence projects, especially in the ongoing Lockheed Martin F-35 fighter programme, according to a Reuters report.
Citing Pentagon documents and a senior official, the news agency reports that the country's defence department waived laws banning Chinese-built components on US weapons in order to keep the $392bn (£238bn, €287bn) F-35 project on track in 2012 and 2013.
Northrop Grumman and Honeywell International, who are the suppliers of the defence project, were allowed to use Chinese magnets for the new warplane's radar system, landing gears and other hardware, Reuters said.
The waivers were given to the suppliers in order to avoid further delays in the F-35 programme. Without waivers, they would have faced sanctions as such procurement is against federal laws.
"It was a pretty big deal and an unusual situation because there's a prohibition on doing defense work in China, even if it's inadvertent," the news agency quoted Frank Kenlon, a former Pentagon procurement official, as saying.
"I'd never seen this happen before."
However, chief US arms buyer Frank Kendall said waivers were needed to keep the programme running and avert millions of dollars in retrofit costs, according to the documents.
The waivers were given to inexpensive parts including $2 magnets installed on 115 F-35 test, training and production aircraft. The documents noted that replacing of China-made magnets with American ones would cost $10.8m and take about 25,000 man hours.
US lawmakers, who are concerned about the defence department's dependence on a potential future adversary, noted that several US companies make similar magnets.
The Government Accountability Office (GAO), the investigative arm of Congress, is examining the issue and is due to submit a report on 1 March.
F-35 Programme
The F-35 is the US military's next generation fighter. The contract for the jets awarded to Lockheed Martin is Pentagon's costliest arms programme.
The programme is jointly funded by the US and its eight allies: Britain, Canada, Australia, Italy, Norway, Turkey, Denmark and the Netherlands. Israel and Japan have also placed orders for the jet.
The programme is already years behind schedule and 70% over initial cost estimates.
The US Marine Corps is planning to start using the jets in combat from mid-2015.