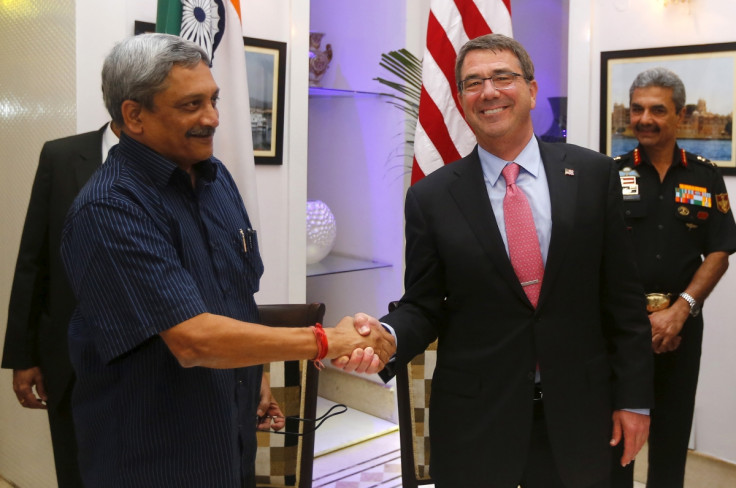 US Secretary of Defence Ash Carter is on a three-day visit to India to improve relations between the militaries of both the countries. The official trip began on 10 April with a visit to the coastal state of Goa where the Indian Navy has a large base. Carter was accompanied by Indian Defence Minister Manohar Parrikar, who happens to be the former chief minister of the state.
This happens to be the US leader's second visit to India in the past year and indicates the importance Washington is placing on its new-found relationship with the country. The US's main motive of the trip is to improve ties and forge new deals in order to counter China's growing military power.
Despite India's interest in American technology and its own growing wariness of China's strength, the country has not been in favour of showing strong partnership with any one country. "India's very reluctant to be seen as too close to the United States, but the Pentagon is very bullish on this relationship," said Shane Mason, a research associate at the Stimson Center in Washington.
Prior to his departure to India, Carter too stressed on the need for stronger India ties. "There's no question about where the United States-India relationship is going," he said at a talk at the Council on Foreign Relations in New York on 8 April. "We can control and influence the pace, and I want to do that."
Two US-Indo pacts have already been discussed by the respective countries and one has already been signed during the trip. The Logistics Support Agreement (LSA), which provides an accounting mechanism for the two militaries to replenish from each other's facilities and bases, has been on the table for close to a decade but was stalled after then Indian defence minister AK Anthony had reservations regarding the terms. Parikkar agreed to sign the deal under a new name — Logistics Exchange Memorandum of Agreement (LEMOA), which will allow India discretion in regards to which US operations they will aid with.
The second deal, Communications and Information Security Memorandum of Agreement (CISMOA), will allow India to obtain advanced radio and satellite communications equipment from the US but Washington is concerned about the advanced technology reaching Russia, which has a defence relationship with India.
Aerospace and defence head of the US-India Business Council Ben Schwartz explained: "Washington understands that India needs to maintain its defence relationship with Russia, but there needs to be a firewall between the cooperation that India does with Russia and its cooperation with the US. And that firewall doesn't exist at this point."