US: Drivers abandon cars as wildfires engulf California freeway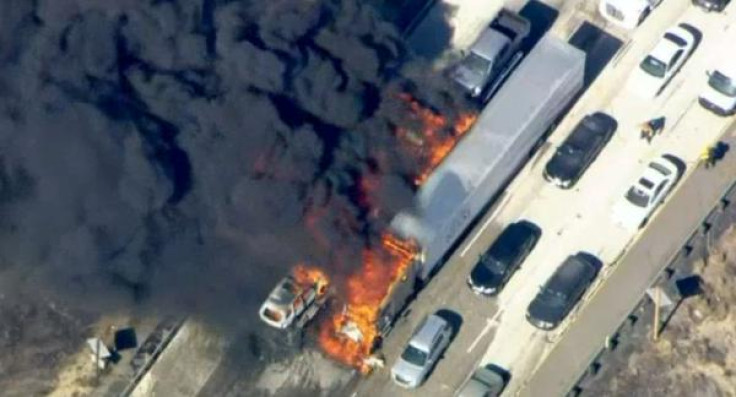 Drivers on a freeway in California were forced to abandon their cars, after a fast-moving wildfire engulfed a section on the Cajon mountain pass, north of Los Angeles.
Twenty vehicles were destroyed and 10 damaged as the blaze engulfed a section of the Interstate 15 freeway.
Three helicopters and one plane assisted around two dozen fire trucks to contain the fire. Helicopters have been dumping water on the burning cars in a bid to dampen the flames.
Five homes have also caught fire and 50 others are in danger, San Bernadino County Fire Department tweeted.
3,500 acres are affected by the fire driven by desert gales, which started at about 2.30pm local time on 17 July.
The main highway between Southern California and Las Vegas was crowded with weekend travelers.
Drivers fled their cars as they found themselves facing a long, orange wall of flame with black smoke billowing high above it.
Motorists stuck on the road described a harrowing scene. "It's crazy, you're watching black clouds and white clouds of smoke, there's a ridgeline off to my right ... and it looks like any second flames will come over the ridgeline," Chris Patterson, 43, said from his vehicle.
After the fire was contained, motorists headed back to their cars, SUVs and trucks. However, most were forced to abandon their vehicles which had been ravaged by the flames.
Residents in areas of Baldy Mesa have been ordered to evacuate.
On 18 July, parts of the highway in the area had been reopened. The I-15 freeway is the main road between LA and the gambling mecca of Las Vegas.
A fourth year of droughts have produced tinderbox conditions in many areas of California with acres of dried out brush serving as fuel, while 20 mph winds drive the fire quickly over broad areas.
San Bernardino National Forest officials are providing up to the minute updates on the fire.
There are currently no reports of any injuries.
© Copyright IBTimes 2023. All rights reserved.