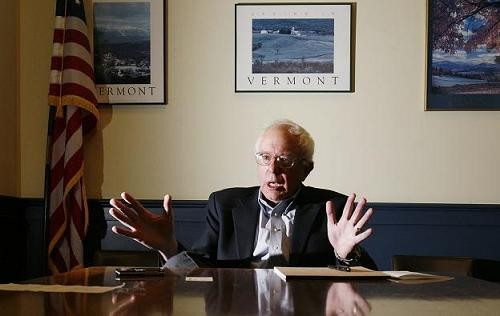 Since entering the 2016 presidential race, Vermont Senator Bernie Sanders has been praised for being the liberal alternative to Democrat Hillary Clinton. But a new Slate report calls on Democratic voters to remember that the independent senator is a firm opponent of gun control.
According to Slate, Sanders has supported a NRA-backed law that may block Sandy Hook families from winning a lawsuit against the manufacturer of the gun used during the 2012 massacre. The law, which passed in 2005, bars victims of gun violence from suing weapon manufacturers, the Washington Post reported.
Sanders's website does not list his stance on gun control, but a look at his voting record show that the 73-year-old stands firmly with Republicans when it comes guns.
During his time as congressman, Sanders voted against the Brady Act that allowed federal background checks for people purchasing guns and restricted access to firearms for felons. Slate reported that as senator, he endorsed legislation that allowed firearms in checked bags on Amtrak trains and blocked funding to foreign aid organizations that registered of taxed US-owned guns.
"He doesn't have a gun," close friend Richard Sugarcane told National Journal. "He doesn't really care about guns. But he cares that other people care about guns. He thinks there's an elitism in the antigun movement."
Sanders's view on gun control is on par with laws in the state of Vermont. Slate reported that "deep-blue" state has high gun ownership, as well as relaxed gun laws.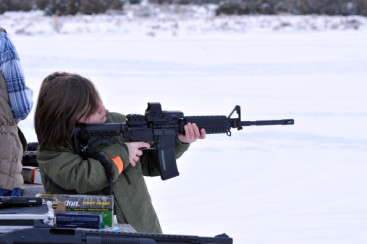 Gun control is the one of only issues the Vermont socialist stands firmly in the right of Democratic powerhouse Clinton. According to the Washington Post, Clinton has stated her support for tighter gun control policies.
"We have to rein in what has become [an] almost article of faith, that anybody can own a gun anywhere, anytime. And I don't believe that," Clinton said last year.
Her opponent has, however, supported some gun control measures, Slate noted. In April 2013, Sanders voted for expanded background checks for gun purchasers and a ban on assault weapons.
"Nobody believes that gun control by itself is going to end the horrors we have seen in Newtown, Conn., Aurora, Colo., Blacksburg, Va., Tucson, Ariz. and other American communities," the senator said in a statement.
He continued, "There is a growing consensus, however, in Vermont and across America that we have got to do as much as we can to end the cold-blooded, mass murders of innocent people. I believe very strongly that we also have got to address the mental health crisis in our country and make certain that help is available for people who may be a danger to themselves and others."