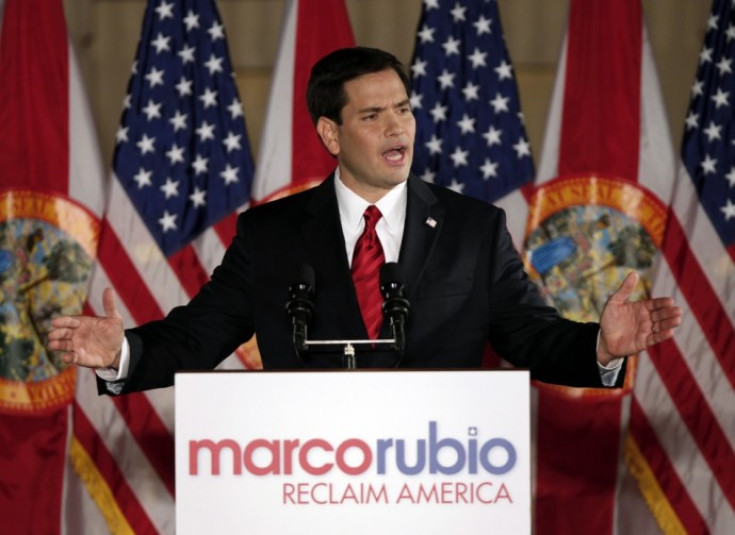 The Republican presidential ticket may soon have another official contender. Florida Senator Marco Rubio revealed on 31 March that he will announce his decision regarding the 2016 elections in the coming weeks.
"I will announce on April 13 what I'm going to do next in terms of running for president or the US Senate," Rubio told reporters on Fox News' The Five.
If Rubio decides to run to president, he will join what will be a crowded Republican primary race. In March, Texas Senator Ted Cruz became the first to officially announce his candidacy but several others are expected to announce their bids, including Kentucky Senator Rand Paul and former Hewlett-Packard CEO Carly Fiorina.
According to ABC News, Florida's first-term senator is up for senatorial re-election in 2016 but his state bars candidates from running for both the Senate and the White House at the same time. Rubio has said he would not run for it were he to lose a presidential bid.
"When you choose to do something as big as that, you've really got to be focused on that and not have an exit strategy," Rubio said on The Hugh Hewitt Show in 2014.
While recent poll numbers have shown Rubio will have to work harder to gain his party's nomination, the senator may have a Latino voter advantage. According to Whit Ayres, a Republican pollster for North Star Opinion Research, he has the potential to grab the necessary Latino votes to win the presidency.
Ayres, who will be working with Rubio, told reporters the Republican nominee will need to get more than 40% of the Latino vote to win in 2016. According to National Journal, the pollster added the senator is "extraordinarily talented" and he could be "transformational" in broadening the GOP's appeal.
Republicans have struggled to capture the necessary Latino votes needed to win the last two presidential elections, despite an increase in Latino voters. Mitt Romney only won 27% of Latino voters in 2012, a 4% drop from John McCain in 2008.
Rubio's stance on immigration reform is also working in his favour. He was one of several senators in the failed 2013 comprehensive immigration reform effort. The issue, which is often listed as a top concern by Latino voters, could give him the necessary push to grab his party's nomination.