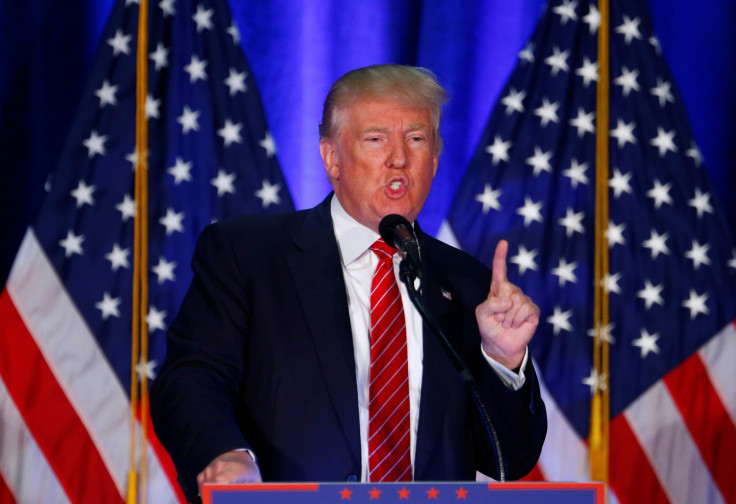 More than 100 Republicans have signed the final draft of an open letter urging Republican National Committee Chairman Reince Priebus to stop funding nominee Donald Trump. The signees, which previously numbered around 70, called on the party to shift resources to Senate and House races instead.
"Given the catastrophic impact that Donald Trump's losing presidential campaign will have on down-ballot Senate and House races, we urge you to immediately suspend all discretionary RNC support for Trump and focus the entirety of the RNC's available resources on preserving the GOP's congressional majorities," the letter states.
The letter, which was sent to Priebus on Tuesday (16 August), was signed by two current members of Congress, Reid Ribble of Wisconsin and Scott Rigell of Virginia. Eight former Congressmen and 27 former members of the RNC also signed the letter, according to RollingStone.
"We believe that Donald Trump's divisiveness, recklessness, incompetence, and record-breaking unpopularity risk turning this election into a Democratic landslide, and only the immediate shift of all available RNC resources to vulnerable Senate and House races will prevent the GOP from drowning with a Trump-emblazoned anchor around its neck," the letter continues.
They point out that "Donald Trump's chances of being elected president are evaporating by the day". Trump "has alienated millions of voters of all parties," the letter argues, before going on to list the GOP nominee's many mishaps in the last month.
Among the issues highlighted are Trump's feud with a Gold Star family, his refusal to release his tax records, his continued lies and his Second Amendment comments towards Democratic rival Hillary Clinton.
The letter notes the New York businessman has managed to "mock and offend millions of voters, including the disabled, women, Muslims, immigrants and minorities." It cites polling analyst Nate Silver, whose analysis gives Trump a 11% chance of winning the November election. "Trump's across-the-board collapse has put even Republican bastions like Georgia and Arizona in play."
The group also takes offence with Trump's actions against members of his own party, noting his willingness to go after those who have not supported him.
"In summary, every dollar spent by the RNC on Donald Trump's campaign is a dollar of donor money wasted on the losing effort of a candidate who has actively undermined the GOP at every turn," the letter adds. "Rather than throwing good money after bad, the RNC should shift its strategy and its resources to convince voters not to give Hillary Clinton the 'blank check' of a Democrat-controlled Congress to advance her big government agenda."
Recent polls show Trump trailing Clinton by about six points at a national level and by as much as 25 points in their home state of New York. A new poll by NBC News/SurveyMonkey four-way general election match-up has Clinton at 43%, followed by Trump at 37%, Libertarian Gary Johnson at 11% and Green Party candidate Jill Stein at 4%.
Read the full letter below: