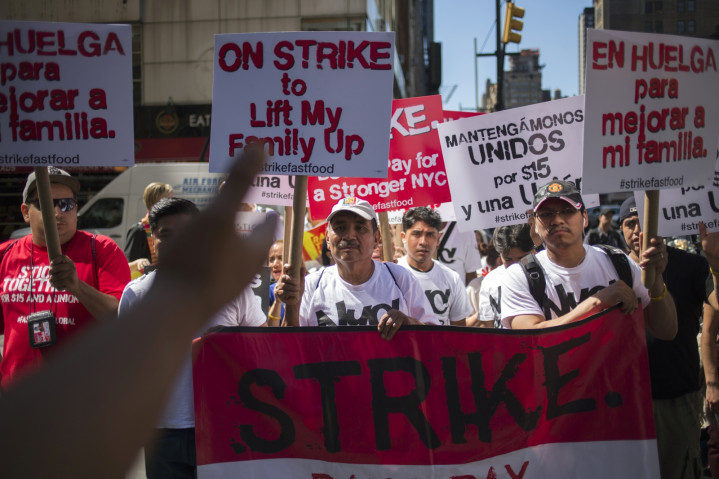 Nickeled and dimed. That is how fast food workers across 150 US cities feel.
Their protests, demanding that their wages be increased to $15 (£9.19, €11.59) per hour, have led to 450 people being arrested.
They come in the wake of President Barack Obama's failure to secure a rise in the federal minimum wage to $10.10, up from $7.25, thanks to Republican opposition in Congress.
The actions, part of a two-year campaign, have been supported by the country's trade unions, which wield considerably less power than their counterparts in the UK.
"There is a national movement going on made up of fast food workers, organising to lift wages, so they can provide for their families with pride and dignity," Obama said.
"There is no denying a simple truth - America deserves a raise."
Further actions are planned across major cities in the US, including Chicago, New York and Los Angeles.
The Seattle Effect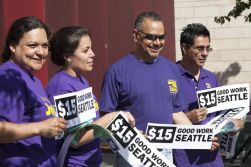 But why has this minimum wage movement emerged?
American workers have seen little to no real wage growth in the past three-and-a-half decades, and 2014 is no different, according to the think tank the Economic Policy Institute.
The organisation said that the average worker in the restraint industry makes $10 an hour.
In contrast, the thinktank said the average wage across other sectors in the US is $18 per hour.
"Despite a recovering economy and growing productivity, employers are not putting anything more in their employees' pay-checks," said Elise Gould, an economist at the EPI.
"Over the past forty years, corporations, and their CEOs and lobbyists, have used public policy to stack the deck in their favour
"The only way to strengthen the middle class is to grow wages, and for that we need policies that deal workers a stronger hand."
The protests also come after Seattle City Council agreed to hike the city's minimum wage to $15.
Once counted as effectively down and out, the protests have revived the US' labour movement.
It is no doubt that policy-makers in Europe, particularly in Germany where a new minimum wage has recently been introduced, will be watching this fast food wage fight play out.