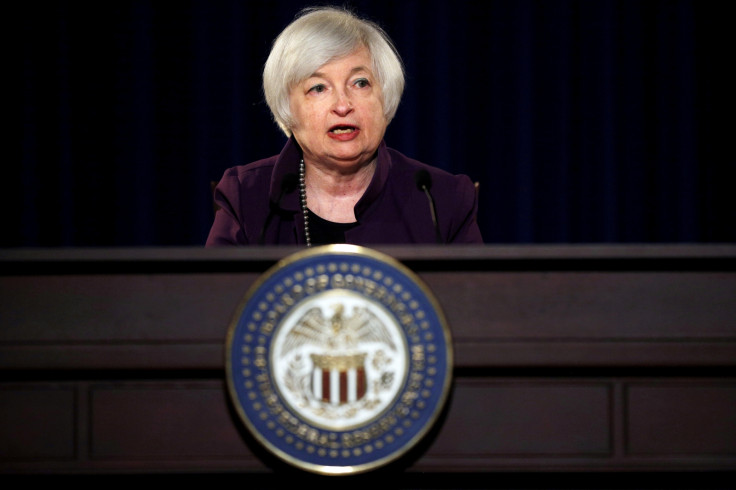 The case for increasing US interest rates has "strengthened in recent months," Janet Yellen, the chairperson at the US Federal Reserve said. She, however, failed to disclose the timing of the potential rate hike.
Speaking at the annual three-day symposium in the US state of Wyoming, Yellen showed she was cautiously upbeat about the US economy. She said solid growth in household spending had led to an expansion of the US economy. She was, however, disappointed that business investment had remained low and that exports continued to be restrained amid the appreciation of the dollar since mid-2014.
However, going forward, she said the Federal Open Market Committee (FOMC) expected a moderate GDP growth and an improvement in the labour market. She added that the FOMC expected the inflation to rise to 2% over the next few years.
Based on these expectations, she said the "FOMC continues to anticipate that gradual increases in the federal funds rate will be appropriate over time to achieve and sustain employment and inflation near our statutory objectives."
"Indeed, in light of the continued solid performance of the labor market and our outlook for economic activity and inflation, I believe the case for an increase in the federal funds rate has strengthened in recent months," Yellen explained in her prepared speech.
The Fed chair, however, added that FOMC decisions would always depend on incoming data and hence its perception of increasing rates could change in the future. "Our ability to predict how the federal funds rate will evolve over time is quite limited because monetary policy will need to respond to whatever disturbances may buffet the economy," she explained.
The last time the US central bank raised interest rates was at the end of 2015. This had then marked the first rate hike in nearly a decade.
Commenting on Yellen's speech, Subadra Rajappa, head of rates strategy at Societe Generale, was cited by the BBC as saying, "We weren't really expecting her to signal a hike at the September meeting, but she's just kept the door open for a hike sooner rather than later. I think that the Fed wants to get the market to start pricing in a hike for this year, which they weren't doing earlier, and now I'm seeing the probability of a hike by December has gone up slightly over a coin toss."