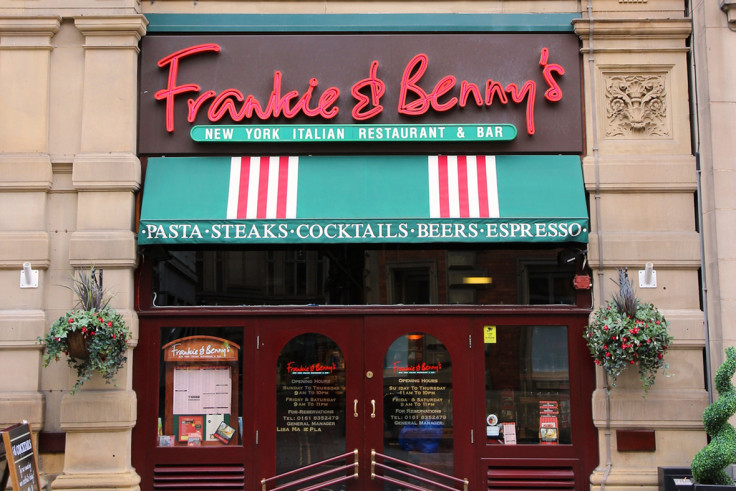 Frankie & Benny's owner said it will axe 33 sites and revamp its menus as the firm bids to turn itself around.
The Restaurant Group, which owns over 500 UK outlets including Garfunkel's and Chiquito, ousted its chief executive Danny Breithaupt earlier this month after poor sales. He will be replaced by former Paddy Power boss Andy McCue in September.
The firm said operating profit fell 4.4% to £37.5m in the 27 weeks to 3 July, as the business "lost value-conscious customers".
It blamed menus at its key Frankie & Benny's chain, which have cut cheaper offers and other popular dishes, in favour of more "authentic" ranges at higher prices.
The company said trading has improved slightly in recent weeks, but like-for-like sales for the first 34 weeks of this year was down 3.7%. It had warned on profit in April.
It added it would book an exceptional charge of £59.1m in the first half of the year as a result of the "underperforming" sites it would either sell or close.
The group said the axed sites would include 14 Frankie & Benny's outlets, 11 Chiquito restaurant and eight other diners.
Shares at the FTSE 250 business fallen by some 40% over the last year, while over a quarter of shareholders rejected the company's remuneration report at its annual general meeting in May, reflecting an unhappiness with the group's performance.
This year the group has restructured its board, including bringing in a new chairman and chief financial officer, as it bids to improve trading. Chairman Debbie Hewitt describes the last six months as a "challenging" period.
She added: "The board has moved quickly to undertake a review of the operating strategy and we now have clarity on the issues facing our leisure brands, particularly Frankie & Benny's. The brand remains relevant and popular and we are confident that improved performance will be achieved by being more customer-focused and data-driven, and through better operational execution."
However, the group held to its previous downgraded guidance in April, that full-year pre-tax profit would come in at between £74m to £80m.