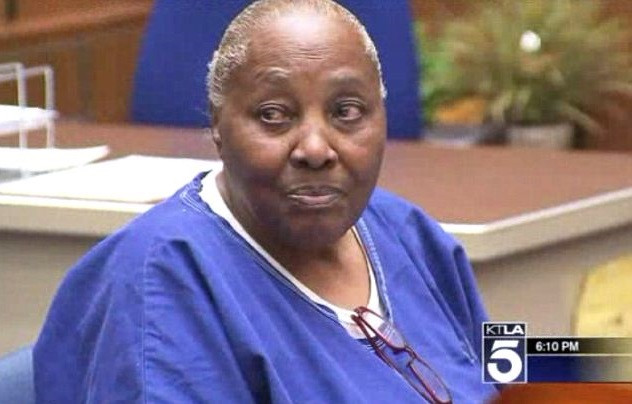 A 74-year-old American woman has walked free after 32 years in prison for murder, after a judge ruled she was under the influence of her abusive partner at the time of the crime.
Mary Virginia Jones was cheered by family and friends as she walked out of a detention facility in Lynwood, California.
She was first arrested 1981, a few days after two drug dealers were shot, one fatally, in Los Angeles, by her then-boyfriend Mose Willis.
On April 3, 1981 Willis, who had a record for manslaughter, possession of a firearm and evading arrest, forced the woman and two drug dealers he had invited home into a car, Jones' attorneys told a Los Angeles court, the LA Times reported.
He then drove to an alley and open fire on the pair as Jones waited in the vehicle.
In 1987 Jones was sentenced to life for first-degree murder, kidnapping and robbery at the end of a series of trials.
Almost three decades later, students from the USC Post-Conviction Justice Project took up the case for her sentence to be reviewed, arguing that battering and threats made against her by Willis were mistakenly not taken into account.
Los Angeles Superior Court Judge William Ryan heard that a week before the murder, Willis shot at Jones' daughter, Denitra, during an argument and threatened to kill both of them if they contacted police.
"He pulled a gun on me and shot at me, and my mother witnessed that," Jones' daughter, Denitra Jones-Goodie, 53, told the court. "He threatened not only to kill me, but to kill her and anybody else that came to our aid."
The court heard that as Willis shot the two drug dealers, Jones ran away and found shelter at a friend's house where she was arrested days later.
"She ran down the alley fully expecting him to shoot and kill her, too," said Heidi Rummel, co-director of the USC justice project.
Judge Ryan ordered her release after Jones and the District Attorney's Office agreed to a plea of no contest to voluntary manslaughter.
"I did not willingly participate in this crime, but I believe that entering a no contest plea is in my best interest to get out of custody," Jones told the court.
Willis was sentenced to death and died while on death row in 1988.