A North Carolina gun-rights organisation is raffling off a free AK-15 assault rifle along with a photo of Democratic presidential nominee, Hillary Clinton.
"Of course, we won't tell you what to do with the photo, but when we ran a picture of Hillary on the front of our newsletter, we heard it was very popular at the [shooting] range," states the website announcing the raffle for the group, Grass Roots North Carolina.
Assault rifles lke the AR-15 are the guns reportedly most often used in mass shootings in America, including the San Bernardino attack and in the killings at Sandy Hook elementary school in Connecticut. They were banned in the US from 1994 to 2004.
Republican presidential candidate Donald Trump has said backers of the Second Amendment of the US Constitution, which protects the right to bear arms, might be able to "do" something about Hillary Clinton, which many viewed as a call to violence.
The website for the gun-advocacy group touts the "Hillary Clinton Special," and urges: "Get an AR-15 and elect pro-gun candidates."
It then states what the raffle winnings include: a "Palmetto State Armory M4-configured AK-15," 1,000 rounds of high quality ammunition, and "wait for it, a FREE portrait of Hillary Clinton," pointing out that such photos are very popular at target-shooting ranges.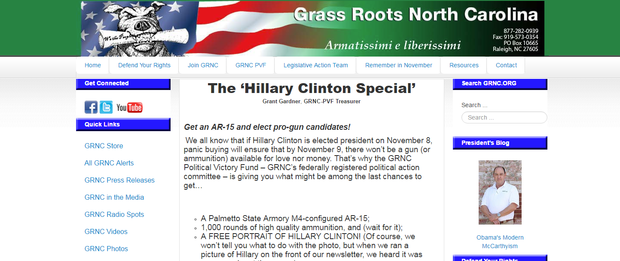 The site also warns that a Clinton victory in November would lead to "panic buying" of firearms so that "there won't be a gun (or ammunition) available for love nor money."
The raffle draw will be held on Election Day. Money from the raffle will be contributed to a Political Action Committee to fund campaigns against three Democratic state office-holders.
There was no immediate response from the Clinton campaign.