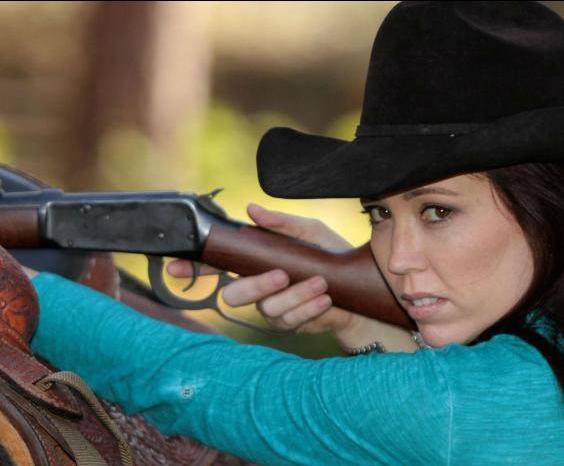 A gun-loving American mother who claimed that weapons ensure safety has been shot in the back by her son. The shooting came just hours after Jamie Gilt boasted on social media that her four-year-old child "gets jacked up to target shoot with the .22".
The 31-year-old was reportedly on her way to pick up a horse when her son came across the semi-automatic weapon on the back seat of their car. Taking aim in his mother's direction, the child pulled the trigger, sending a bullet through the car seat and into Gilt's back.
Her car was seen by a sheriff's deputy, who noticed her "motioning to him as if she needed assistance," police said. After reaching her vehicle, the officer realised that she had been shot."
"The deputy provided first aid until the arrival of paramedics," a statement said. "The victim was transported to University of Florida Health in Gainesville and was last reported to be in stable condition. The only other occupant of the vehicle was the victim's four-year-old son, who was unharmed."
She notified officials that her son had shot her before going into the emergency room, according to the statement. Putman County Sheriff's office spokesman Joseph Wells said: "We're satisfied that this is not a criminal shooting."
Gilt is a well-known and outspoken advocate of guns and has repeatedly made her stance clear on using the weapon as a "right". In one post she wrote: "I can promise though, if someone breaks into my house, or tries to harm me or my family pretty much anywhere, they will be shot and most likely killed."
Gilt claimed: "It's my right to protect my life. Not sit around and wait for someone to come pack up my body or take me to the hospital after I've been beaten and raped."
Florida law requires gun owners to ensure that they are securely stored. "Florida Statute makes it a misdemeanor for a person to store or leave, on a premise under his or her control, a loaded firearm in such a manner that it is likely a child can gain access to the firearm. The investigation is ongoing to determine exactly how the firearm was stored in the vehicle," police said.
"Due to her medical condition, detectives have not been able to interview the victim and any decision on the filing of criminal charges will not come until after we speak with the victim."
The irony of the situation has not been lost on social media users, with many condemning her stance on deadly weapons. One person posted: "The hypocrisy... Jamie Gilt for gun sense? Sorry you were shot. Sorry your son will have to live with this the rest of his life"