US-led coalition airstrikes in Raqqa cause 'staggering loss of life'
Coalition is helping Syrian Democratic Forces in offensive to recapture city from Isis.
UN war crimes investigators have claimed the US-led coalition in the Syrian city of Raqqa is causing a "staggering loss of life".
The coalition is supporting the Syrian Democratic Forces (SDF), an alliance of Kurdish and Arab militias, in an ongoing offensive to recapture Raqqa from the Isis terror group, which took control of the city in 2014.
Since the offensive began on 6 June, the SDF has recaptured territories to the west, east and north of the city.
"We note in particular that the intensification of air strikes, which have paved the ground for an SDF advance in Raqqa, has resulted not only in staggering loss of civilian life, but has also led to 160,000 civilians fleeing their homes and becoming internally displaced," Paulo Pinheiro, chairman of the UN Commission of Inquiry told the Human Rights Council in Geneva. He did not disclose the number of civilian casualties in Raqqa.
While addressing the Council, US diplomat Jason Mack did not comment on the offensive. He deemed the Syrian government as "the primary perpetrator" of human rights violations in the country.
In a report released on 13 June, Human Rights Watch (HRW) called on the actors involved in the offensive to prioritise the protection of civilians trapped in the city, as well as those who are fleeing.
"The battle for Raqqa is not just about defeating Isis, but also about protecting and assisting the civilians who have suffered under Isis rule for three and a half years," said Lama Fakih, deputy Middle East director at Human Rights Watch.
"Coalition members and local forces should demonstrate concretely that the lives and rights of the hundreds of thousands of civilians in Raqqa are a parallel priority in the offensive.
Between 160,000 and 200,000 civilians are estimated to be still in Raqqa.
War in Syria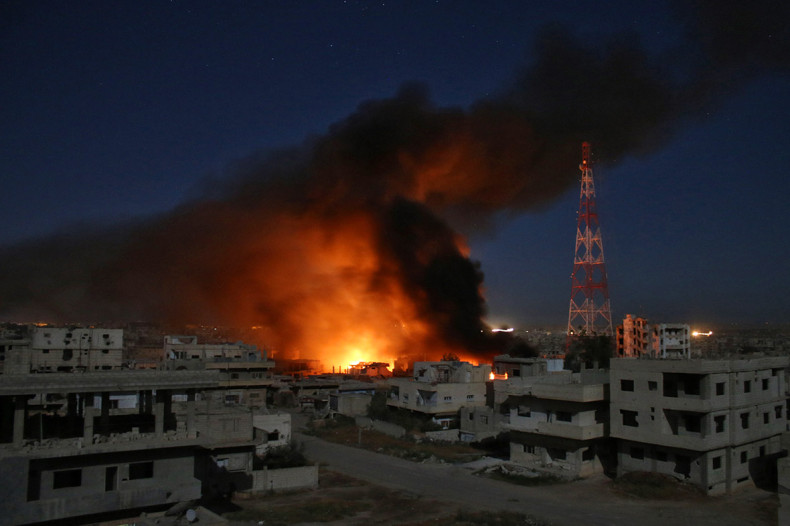 Syria descended into war in 2011 , when President Bashar al-Assad deployed government troops to quash anti-government demonstrations in several areas of the country.
Assad refused to step down as violence spread throughout the region. Despite several ceasefires and the intervention of international coalitions, the conflict deepened and fostered the emergence of anti-Assad rebel groups.
The warring sides involved in the conflict are numerous. The US coalition backs some of the militia groups that want to overthrow Assad, including SDF and Free Syrian Army.
On the other side, Russia, Iran and Hezbollah back Assad forces.
Isis fights both pro and anti-Assad forces and aims to establish an Islamic caliphate throughout the occupied territories.
The conflict has resulted in the death of hundreds of thousands of people and the displacement of millions.