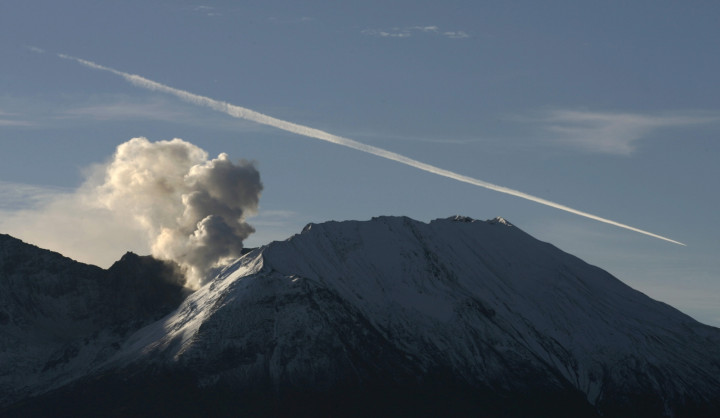 Almost 10 years ago to this day, Mount St Helens showed signs of awakening after 18 years of sleep. Now, scientists believe the volcano is refuelling itself to erupt in the not-so-distant future.
Mount St Helens is a stratovolcano in Skamania County, in the US state of Washington. Scientists have been monitoring the volcano after it showed signs of being active once again.
US Geological Survey (USGS) seismologist Seth Moran told the Associated Press that it is difficult to predict just when Mount St Helens could erupt, but it seems the volcano is preparing itself to blow.
Geologists expect future dome-building eruptions at the volcano. "It looks like Mount St Helens is getting ready to erupt again and it can happen in the order of years to decades," Moran said.
Rather than the big eruption of 1980 which killed 57 people, the seismologists say future seismic activity will be similar to that of a decade ago.
In 2004, media and volcano-watchers flocked to Johnston Ridge, the closest road with a view of the crater, as ash and steam was emitted into the air. For several weeks, the area surrounding the volcano was closed because of safety concerns.
Over the next three years, a second lava dome gradually appeared in the crater. It eventually rose over 1,000 feet above the crater floor and the eruption ended in 2008.
Although the lava dome has not erupted since that year, its shape continues to change.
"As it cools, it fractures and settles and falls apart," said Dan Dzurisin, a USGS geologist. Rockfall has also been changing the shape of the crater rim.
Around five miles below the volcano, there are signs that the magma chamber that fuelled both eruptions is recharging. Dzurisin said the USGS is focusing on the rate of recharging and whether the magma can compress in the chamber – rather than flowing towards an outlet to the earth's surface.
Scientists are closely watching new eruption warning technology they have installed around Mount St Helens.
In September 2004, the USGS had only one GPS device near the volcano, at Johnston Ridge. After the new dome appeared, the USGS landed a helicopter in the crater and had a worker put a GPS there.
"Three days later there was an explosion that wiped out that site," Moran said. "That really forced us to get creative about how to get instruments in close."
Since then, the agency has installed numerous GPS receivers around the northwest region. The instruments continually measure a change of location of as little as one millimetre.
Over the last month, increasing seismic activity has been reported around the world. Around 36 people were reported dead this week when Mount Ontake in Japan suddenly erupted during a busy hiking weekend.
Iceland's Bardarbunga volcano threatened to close airspace when it erupted last month.