US national security chiefs believe Donald Trump's Muslim ban will help Islamic State
From aiding terrorism to causing a humanitarian crisis, the analysis is damning.
Ten senior US national security officials, including officials from the National Security Agency (NSA) and Central Intelligence Agency (CIA), have warned that President Donald Trump's immigration ban may aid Islamic State (Isis) terrorists and will have a "devastating" humanitarian impact.
In a legal challenge filed on Monday (6 February), the high-ranking figures said the crackdown could do "long-term damage" to the safety of Americans and maintained the proposals were not justified on "national security or foreign policy grounds."
On 27 January, Trump signed an executive order that restricted travel and immigration into the US from seven countries including Iran, Iraq, Libya and Syria for 90 days. Almost immediately, it was branded a "Muslim ban" and met with mass public protests.
"[The order] could do long-term damage to our national security and foreign policy interests, endangering US troops in the field and disrupting counterterrorism and national security partnerships," wrote the officials in support of existing legal action.
Signatures include former NSA director Michael Hayden, former CIA director Michael Morell, former National Security Advisor Susan Rice and former Secretary of State John Kerry. Many served in government under Barack Obama, some as recently as 20 January this year.
Their joint analysis was damning, saying: "We view the order as one that ultimately undermines the national security of the United States, rather than making us safer. It does not perform its declared task of 'protecting the nation from foreign terrorist entry.'"
It continued: "The order disrupts thousands of lives, including those of refugees and visa holders all previously vetted by standing procedures that the Administration has not shown to be inadequate."
Unlike the belief of president Trump, they said that terror groups such as the Islamic State (Isil/Daesh), may only be strengthened as a result of the proposals.
"It will aid Isil's propaganda effort and serve its recruitment message by feeding into the narrative that the United States is at war with Islam," the filing said. "It will hinder relationships with the very communities that law enforcement professionals need to address the threat.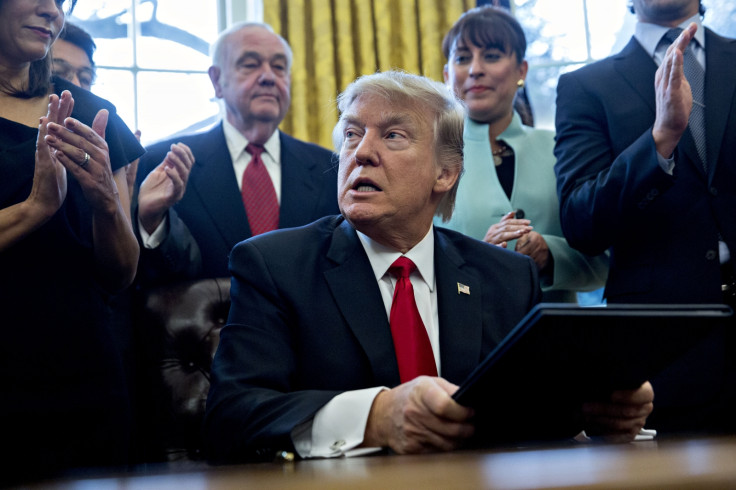 President Trump pauses after signing an executive order
Andrew Harrer Pool/Getty Images
"The international criticism of the order has been intense and it has alienated US allies. It will strain our relationships with partner countries in Europe and the Middle East, on whom we rely for vital counter-terrorism cooperation, undermining years of effort to bring them closer."
And the national security chiefs said it will have "a damaging humanitarian and economic impact on the lives and jobs of American citizens and residents." Bluntly, it added: "Apart from all of these concerns, the order offends our nation's laws and values."
On 30 January, three days after being enacted, Washington State filed legal action in an attempt to stop the order from progressing, a move that was later granted on 3 February (Friday). President Trump reacted by tweeting, accusing the "so-called" judge of helping terrorism.
"Just cannot believe a judge would put our country in such peril. If something happens blame him and court system. People pouring in. Bad!" he wrote.
Yet the 10 national security experts, like with almost every other aspect of the ban, dispute the truth of this assertion. "There is no national security purpose for a total bar on entry for aliens from the seven named countries," they wrote.
The court filing noted that since the 11 September 2001 World Trade Centre attacks, in which the majority of hijackers were from Saudi Arabia, no major terrorist attack in the US is believed to have been orchestrated by men or women from the countries named in the executive order.
It said: "The overwhelming majority of attacks have been committed by US citizens. Blanket bans of certain countries or classes of people are beneath the dignity of the nation and Constitution that we each took oaths to protect.
"Rebranding a proposal first advertised as a 'Muslim Ban' as 'Protecting the Nation from Foreign Terrorist Entry into the United States' does not disguise the order's discriminatory intent, or make it necessary, effective, or faithful to America's Constitution, laws, or values."
© Copyright IBTimes 2023. All rights reserved.