A US Navy's nuclear-powered attack submarine equipped with Tomahawk cruise missiles made a port call on Tuesday (6 June) in South Korea amid simmering tensions in the region. It is still unclear whether or not it was a scheduled pit stop for the vessel.
The situation in the Korean peninsula has been quite tense over the past few months with the US and its allies constantly increasing their military presence while North Korea is defiantly boosting its weapons programme. There are already two naval strike groups led by supercarriers – the USS Ronald Reagan and USS Carl Vinson – in the region conducting dual-carrier drills near the waters of the Korean peninsula.
According to an unnamed South Korean military official cited by the Yonhap news agency, the port call made by the nuclear-powered USS Cheyenne is to give the crew members rest and refill supplies. It is unlikely to take part in any joint naval exercises with Seoul's forces.
However, the presence of the 6,900-tonne vessel – fitted with Tomahawk cruise missiles which have a strike range of about 3,100kms and Harpoon ship-to-ship missiles with a strike range of about 130kms – is seen as yet another show of strength by Washington.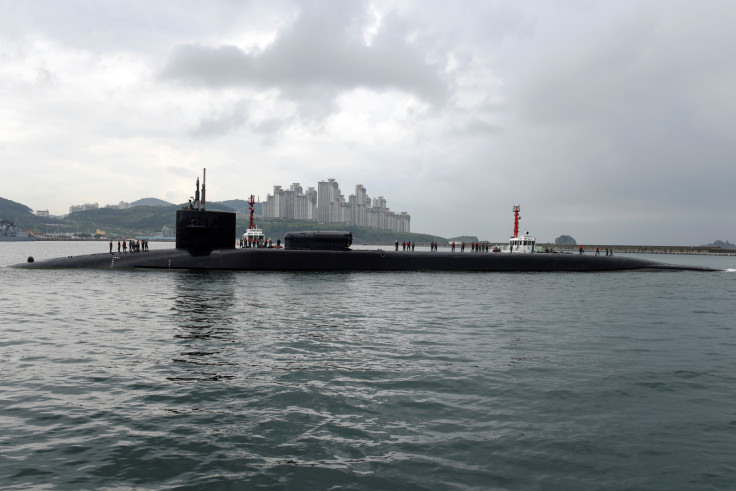 There are about 130 naval personnel on board the submarine. The Los-Angeles-class attack vessel docked at South Korea's Busan port, located about 450kms south of Seoul. It visited Sasebo in Japan in early May as part of a regional deployment.
The whereabouts of USS Cheyenne came to light only after US President Donald Trump held a telephone call with Philippine President Rodrigo Duterte. Subsequent to the conversation, the existence of two nuclear-powered submarines near North Korea emerged. Until then, only the deployment of USS Michigan was publicly known.