Japanese authorities in a small fishing and farming town in Yamaguchi prefecture held evacuation drills for school children and their parents amid frequent missile tests by North Korea.
The restive state has already test-fired three missiles in three weeks in May and has vowed to continue its nuclear programme, accusing the US and its allies of creating a hostile situation in the Korean peninsula.
Japan has reportedly been pushing all its cities and towns to conduct the evacuation drills to minimise loss of life in the event of an attack by North Korea.
According to Reuters, the estimated time a North Korean missile would reach Japan is 10 minutes, giving the authorities very less time to respond.
During the Sunday (4 June) evacuation drill in Abu town, school officials said their students were able to evacuate into the gymnasium in around three minutes following a warning alarm. Nearly 100 students and their parents took part in the drill.
A siren "rang all of a sudden while we were picking grass, so that scared me," Taison Ito, a 10-year-old fifth grader, told the news agency.
"It's something close to our daily lives," a parent, Kanako Ono, said. He added that news about North Korea and its repeated missile tests are always in newspapers and on TV and the mock drill was "a good way to understand how to evacuate". "But again it didn't feel very realistic."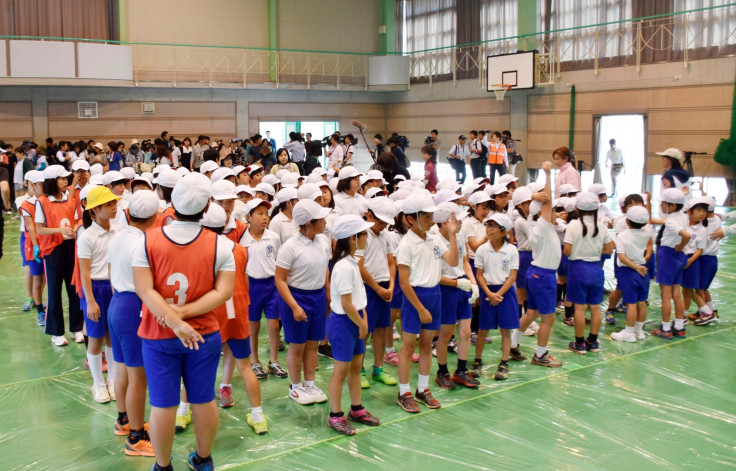 Security experts believe these drills would not protect everyone from ballistic missiles, but knowledge of the evacuation procedure could help many people survive the crisis. "It's hard to say how many people will be saved and how much effect it will have. But, with awareness raised and basic procedure understood, the survival rate will definitely be higher," retired Vice Admiral Yoji Koda said.
North Korea has so far test-fired 12 missiles in the first five months of this year and is said to be preparing for its next nuclear test. Some of the missile tests failed, but a couple of recent ones conducted in May landed in the Sea of Japan.
Tokyo has strongly condemned the tests, which it sees as a violation of United Nations regulations. Japan, in collaboration with the US and South Korea, is preparing to impose tougher sanctions on the reclusive nation, led by Kim Jong-un. The allies have also called on China to put pressure on the Pyongyang regime to deter them from pursuing their nuclear ambitions.
The recent events have escalated tensions in the Korean peninsula with the US deploying strike groups led by its two major warships in the region - the USS Carl Vinson and USS Ronald Reagan.
Earlier, China, South Korea and Russia were reported to be preparing their forces for a war amid growing tensions between the US and the North. They were mobilising troops and equipment along their respective borders with the restive state.