US officials name 12 missing Marines after military helicopters crash near Hawaii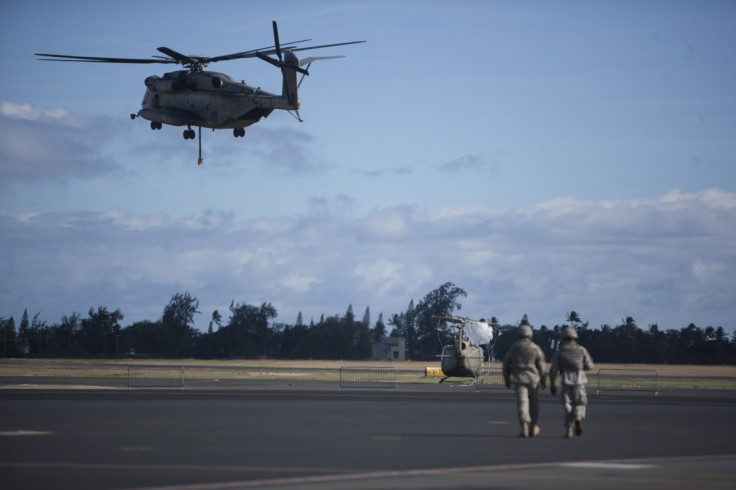 The US Marine Corps has named 12 missing officers and NCOs after a double helicopter crash near the Hawaiian Island of Oahu. Two Marine Corps helicopters carrying six crew members each crashed on Thursday, 14 January, and rescue teams continued to search the choppy waters near to where debris was found on 16 January.
The pair of CH-53E helicopters, mostly used for transport, came down during a nighttime training mission in the Pacific. But as the families of the missing prepare themselves for the worst the rough weather, with winds blowing up to 23mph and breaking surf up to 30ft (9m), was hindering coastguards and air searches.
Missing US Marine names
Marine Corps Base Hawaii Public Affairs Office named the missing marines as:
Maj Shawn M. Campbell, 41, College Station, Texas
Capt Brian T. Kennedy, 31, Philadelphia, Pennsylvania
Capt Kevin T. Roche, 30, St. Louis, Missouri
Capt Steven R. Torbert, 29, Florence, Alabama
Sgt Dillon J. Semolina, 24, Chaska, Minnesota
Sgt Adam C. Schoeller, 25, Gardners, Pennsylvania
Sgt Jeffrey A. Sempler, 22, Woodruff, South Carolina
Sgt William J. Turner, 25, Florala, Alabama
Cpl Matthew R. Drown, 23, Spring, Texas
Cpl Thomas J. Jardas, 22, Fort Myers, Florida
Cpl Christopher J. Orlando, 23, Hingham, Massachusetts
Lance Cpl Ty L. Hart, 21, Aumsville, Oregon
The 'Super Stallion' helicopters were part of the 1st Marine Aircraft Wing at Marine Corps Base Hawaii. They are the largest used by the US military capable of carrying a light armoured vehicle, 16 tons of cargo, or a team of combat-equipped marines.
Debris has been spotted by search teams, consisting of dozens of marines and Honolulu lifeguards familiar with the area, around 2.5 miles from the coast. As of yet there is no word as to what may have caused the crash.
"That is moving that debris all over the place," coast guard spokesman Lieutenant Scott Carr said according to The Guardian. "It makes finding things incredibly difficult."
Civilians using the beach nearby told of a fireball in the sky, two large booms, and a flare lighting up the night sky. The coastguard near to the military base in Kaneohe Bay reported that two choppers had collided but officials have not confirmed if they believe there was a collision.
Ordinarily the helicopters would normally carry four crew members, but the flight also carried one or two instructor trainers, according to US Marine Corps Captain Timothy Irish. The USS John Paul Jones and the USS Gridley have also been dispatched along with a navy squadron of SH-60 helicopters to assist the search.
Retiree Elaray Navarro, who lives near the crash area said she heard two booms that shook her house on Thursday night. She said: "I threw my blanket off, put my slippers on and ran outside thinking it was a car accident. I pray to the man upstairs to help them. To bring them home safely."
The family of one of the missing marines, Captain Kevin Roche, said in a statement: "We believe the marines and coast guard are doing everything they can to bring Kevin and his fellow marines home safely, and we are grateful to everyone involved in the rescue."
Last May an MV-22 Osprey went down near the island killing 21 marines and a navy corpsman. And in 2011, one serviceman was killed and three injured when a CH-53D Sea Stallion crashed in Kaneohe Bay also in Hawaii.
© Copyright IBTimes 2023. All rights reserved.