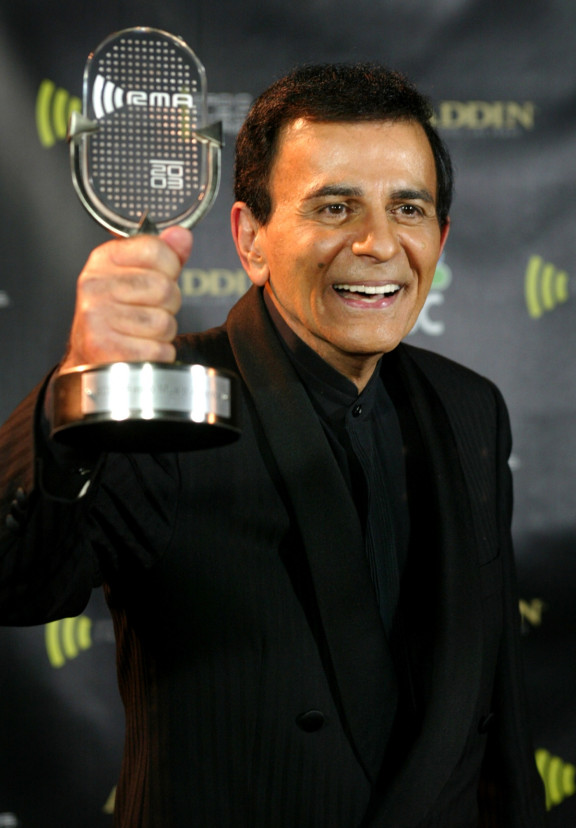 US radio DJ Casey Kasem has died, aged 82.
Kasem, who had been in declining health for months, passed away on Sunday morning.
In a statement, his daughter Kerri Kasem said: "Early this Father's Day morning, our dad Casey Kasem passed away surrounded by family and friends. Even though we know he is in a better place and no longer suffering, we are heartbroken.
"Thank you for all your love, support and prayers. The world will miss Casey Kasem, an incredible talent and humanitarian; we will miss our Dad."
The renowned radio DJ had been suffering from advanced Parkinson's disease and Lewy Body Disease, a form of dementia.
Kasem rose to fame in 1970 with his radio music countdown shows, American Top 40 and Casey's Top 40.
He also provided the voice for Shaggy in the popular cartoon series Scooby-Doo from 1969 until 2009.
The son of a Lebanese immigrant grocer, the star was born Kemal Amin Kasem in Flint, Michigan, in 1932.
He became an announcer on a military radio network in Korea, while serving in the Army in the 1950s.
He was married for three decades to 60-year-old Jean Kasem, who starred in the Ghostbusters movie and the US sitcom Cheers. The couple had a daughter together.
Jean Kasem was embroiled in a bitter public feud with the DJ's three adult children from a previous marriage, who fought for control of his care. Kasem's oldest children claimed they were being kept from him.
Last month, Kasem was reported missing after Jean took him from a medical facility in California to Washington State without the rest of his family's permission.
A judge last week awarded Kerri Kasem temporary authority to make medical decisions for her father.
E! host and radio DJ Ryan Seacrest, who succeeded Kasem in 2004, paid tribute to the star saying that as a child he would listen to Kasem's show every weekend and "dream about someday becoming a radio DJ".
"Casey had a distinctive friendly on-air voice, and he was just as affable and nice if you had the privilege to be in his company. He'll be greatly missed by all of us," he said.
Rock star Bryan Adams described him as "one of the greats of American radio".
Kasem was famed for his sign off message. "Keep your feet on the ground, and keep reaching for the stars."