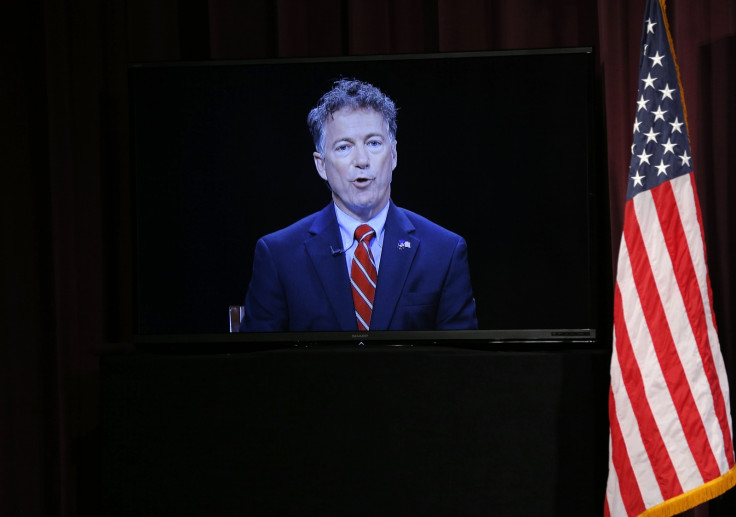 The struggling presidential campaign of Kentucky Senator Rand Paul was dealt a devastating blow on 5 August, when three allies of the Republican candidate were indicted on a number of federal charges.
Jesse Benton, a top ally of Paul and the head of the super PAC supporting his presidential campaign, was charged with conspiracy, making false statements to the FBI and the Federal Election Commission and other charges stemming from an alleged endorsement-for-pay scheme in the 2012 campaign of Ron Paul. According to the Washington Post, Benton is part of the Paul family by marriage.
Two other former Ron Paul campaign officials were also indicted in Iowa: John Tate, Ron Paul's campaign manager, and Dimitri Kesari, Ron Paul's deputy national campaign manager. Tate is also linked to the pro-Rand Paul super PAC.
The Washington Post reported the indictment alleges the three men paid over $70,000 (£44,865) to former Iowa state senator Kent Sorenson in exchange for his support. The men are accused of concealing the payments from the Federal Election Commission and the FBI.
According to TIME, the indictment alleges the men made monthly installments of about $8,000 each. They reportedly concealed the payments "by causing them to be recorded—both in campaign accounting records and in FEC filings—as campaign-related audio-visual expenditures."
Sorenson pleaded guilty to concealing campaign expenditures and obstructing justice in the conspiracy scheme in August 2014. The former state senator testified in federal district court that Ron Paul's presidential campaign covertly paid him $73,000 to endorse the candidate's bid for the White House. He had previously endorsed then-Representative Michele Bachmann before dropping his support.
"Federal campaign finance laws are intended to ensure the integrity and transparency of the federal election process," Assistant Attorney General Leslie R Caldwell said in a statement. "When political operatives make under-the-table payments to buy an elected official's political support, it undermines public confidence in our entire political system."
The indictment comes at a time as the Kentucky Republican is vying for the White House, or should he lose the GOP nomination, his seat in the Senate.