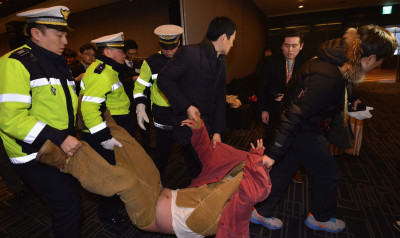 The knife-wielding assailant who slashed the face and wrist of US ambassador to South Korea Mark Lippert is a political extremist known to local authorities for a series of previous violent protests, local media reported.
The suspect, identified as 55-year-old Kim Ki-jong, was arrested by police after attacking the diplomat with a 25cm (10 inches) long blade as he was about to deliver a lecture at a breakfast forum in central Seoul.
Kim reportedly shouted slogans against the conflict between the two Koreas, which has never formally ended, since hostilities were frozen by a 1953 armistice but no peace treaty has ever been signed.
"South and North Korea should be reunified," he was quoted as yelling as he wielded the knife on Lippert, 42.
The man later maintained his violent act was against ongoing annual US-South Korean military drills, which have angered Pyongyang and, he claimed, hamper the difficult peace process, Yonhap news agency reported.
Pyongyang appeared to praise the attack, describing it as a "just punishment".
Police said Kim also shouted anti-war slogans after he was held. The moment he was arrested and dragged away by police was captured on camera.
Kim had attacked a foreign diplomat before. In 2010 he threw a piece of concrete at Tokyo's envoy to Seoul, Toshinori Shigeie, missing him only to hit his secretary instead.
The assault, which he claimed was related to a territorial dispute between Japan and South Korea over a group of islands, resulted in a three-year suspended sentence.
Sources with South Korea's intelligence services told Yonhap Kim was known to have travelled to the North numerous times between 2006 and 2007 and also attempted to erect a memorial altar to honour the memory of Kim Jong-il in central Seoul, after the North Korean dictator's death in 2011.
In 2007 the suspect also tried to set himself on fire with gasoline outside the presidential palace in the capital in a protest what he claimed was authorities' inadequate investigation into an alleged rape that occurred in his office in 1988.
Lippert suffered a 11cm (4 inches) long and 3cm (1 inch) deep wound to the face and was treated at a local hospital where he remained in stable conditions.
He tweeted:
The US state department said: "We strongly condemn this act of violence. The ambassador is being treated at a local hospital. His injuries are not life threatening. Embassy Seoul is coordinating with local law enforcement authorities."
South Korean President Park Geun-hye also condemned the attack. "The latest incident is not only an act of physical violence on the US ambassador in Seoul, but also an attack on the South Korea-US alliance, which cannot be pardoned," she was quoted as saying by a senior presidential secretary for foreign affairs Ju Chul-ki, Yonhap reported.