Hundreds of North Koreans lined the streets of Pyongyang as the scientists and workers behind the reclusive state's latest long-range missile launch arrived back in the city on Friday (7 July).
The Kim Jong-un regime test-launched an intercontinental ballistic missile (ICBM) on 4 July, saying the missile was a "gift" to "American b******s" for the US Independence Day.
The developers of the missile received a hero's welcome as celebrations filled the air in North Korea following the successful launch of the projectile.
Footage broadcast in the North's state-run KRT showed residents waving flowers and red flags as they turned out to cheer and greet a convoy of buses carrying the developers responsible for the Hwasong-14 ICBM.
The scientists and workers – all dressed in military garb – waved back at the people giving them a grand welcome.
The latest missile launch is the first time the Kim Jong-un regime has claimed to have tested an ICBM. The projectile reached an altitude of 2,802km and flew for about 40 minutes before plunging into the Sea of Japan or the East Sea travelling up to 930km.
US officials think Pyongyang may now be able to fire a missile to Alaska although experts say it cannot accurately hit a target.
The US, in the meanwhile, is reportedly planning to carry out a new test of its Terminal High Altitude Advance Defence (Thaad) system in the coming days as tensions simmer in the Korean peninsula.
The test is being planned by the Pentagon for months now, two US officials told Reuters on Friday (7 July). But testing the system now is believed to gain significance in the wake of the 4 July ICBM test.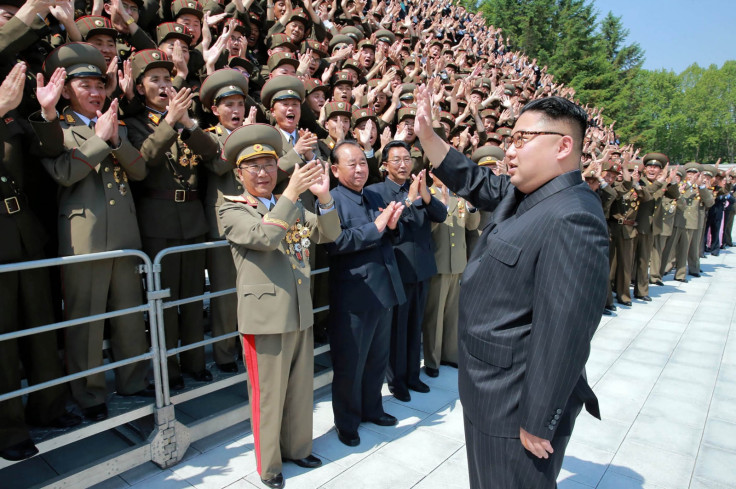 The Thaad interceptors will reportedly be fired from the Pacific Spaceport Complex in Kodiak, Alaska, Reuters noted. It will be the first ever test of the anti-missile defence system against a simulated attacked by a long-range missile by the hermit kingdom.
The US and South Korea signed a deal in July 2016 to deploy Thaad on the Korean peninsula to help intercept Pyongyang's ballistic missiles. However, the move has angered China as it believes the positioning of the missile system could threaten its security. Seoul and Washington have maintained that the system will only be used contain North Korea's missile threats.
The installation procedure gained pace after North Korea's fifth and most powerful nuclear test in September last year. Earlier this April, the US military started bringing in launchers, radar and other key parts of its advanced anti-missile defence system to the site in South Korea where it is to be deployed.
The US military has tested its Thaad system 13 times so far and has claimed a 100% success rate for it. However, it has managed to shoot down an ICBM in only about half of the tests so far.