An elementary school teacher in Utah with a concealed-carry permit, accidentally shot herself in the leg at a faculty restroom on Thursday (11 September) morning, the Salt Lake Tribune reported.
Yet, classes proceeded normally at the Westbrook Elementary School following the incident and a substitute was brought in for the teacher's class while she recovers at the Intermountain Medical Center.
According to the Utah state law, carrying concealed weapons in public schools is a right protected by law for permit holders.
Teachers are allowed to carry concealed weapons without having to disclose the information to anyone, including the school administrators and parents.
Horsley confirmed that the teacher was permitted to carry the weapon, not just by state law, but also by the school district policy.
"This would violate the intent and the strategic advantage of the 'concealed' weapon. If a permit holder had disclosed to faculty or staff that they were carrying a weapon, this could make them a target in an active shooter situation," said Ben Horsley, communications director at the Granite School district, which includes the Westbrook Elementary.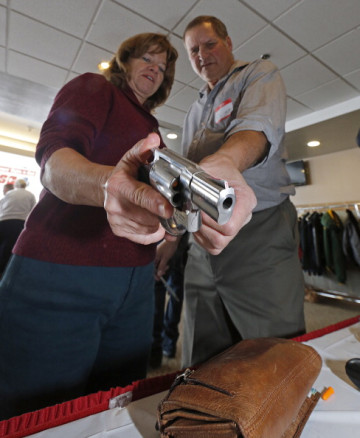 Horsley urged counsellors to work with teachers on how to share the information with kids and said, "we encourage parents to have similar conversations with their child as appropriate. We will provide these resources as long as necessary."
A number of parents, however, have reportedly pulled their children out of the school following the accident, noted Horsley.
Miriam Walkingshaw, a parent of two elementary-school-aged children in another Utah school district, said in reaction to the Westbrook incident: "My first response is that I'm not surprised. We knew at some point this would happen. Accidents happen. I think about it all the time. Who's to say that a teacher who is carrying a gun doesn't have a bad day? Or isn't a little mentally off?"
Walkingshaw is a member of the Utah Parents Against Gun Violence advocacy group that raises awareness of gun laws in Utah.
Walkingshaw noted that a number of parents are unaware that teachers in Utah are allowed to carry weapons if they have the concealed-carry permit.