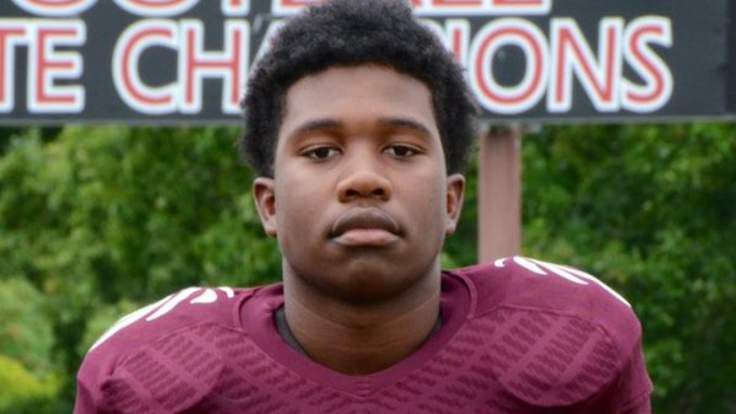 A high school football player has been hailed a "hero", after he shielded three girls from gunfire during a suspected gang-related shooting spree. Zaevion Dobson, 15, was shot dead when a group of men "randomly fired multiple times" at a crowd outside a house in Knoxville, Tennessee on Thursday (17 December) night.
Police said the teenager shielded three girls from the hail of gunfire. None of the girls were hurt in the incident as a direct result of Zaevion's courageous actions.
he died laying on top of me . I love him that's my brother man ❤️ rest easy zae ILL NEVER FORGET YOU

— faith. (@ovofaiith) December 18, 2015
The 'revenge shooting' was apparently sparked by an earlier incident at the apartment of 46-year-old Lisa Perry, who was wounded by gunfire in her home. Her son, 23-year-old Brandon Perry, and several other men drove to the neighbourhood where Zaevion lived, where they opened fire on a crowd of people, in what police have described as a gang-related shooting.
Zaevion was pronounced dead at the scene. Several hours later, officers responding to the scene of a car crash found Perry behind the wheel critically wounded by gunfire. He was taken to hospital, where he later died. Two men who fled Perry's vehicle were arrested.
One man, 20-year-old Christopher Bassett, was charged with being a convicted felon in possession of a weapon. Additional charges are likely, pending the investigation, police said. The second man was released after being questioned Sky News reports.
#ZaevionDobson is a #hero. He gave his life to save the lives of three friends. https://t.co/4rJLTz5mDo

— Franklin Graham (@Franklin_Graham) December 19, 2015
Knoxville Police Chief David Rausch said there did not appear to be a motive to target Zaevion, a sophomore on the Fulton High School football team. "Unfortunately, they picked a random group of young men and women who were just hanging out and trying to prepare to celebrate the holiday," he said.
The teenager's brother, Zach, told WBIR-TV he was among the group of youths sitting on a porch when they saw the men walking up to them. "Why would you shoot at random bystanders for nothing? We were just sitting there chilling," he said. Paying tribute to his brother he added: "Zae, he was an awesome kid, awesome brother. Just know that I miss him. I miss my brother."
One of the three girls named Faith, whose life he saved, said she would never forget him. "He died laying on top of me . I love him that's my brother man rest easy zae ILL NEVER FORGET YOU," she tweeted.
Knoxville Mayor Madeline Rogero also paid tribute to the Fulton High sophomore, saying he was "really one of our success stories".
Rogero said Dobson, a football player and sophomore was not only involved in sports, but was a mentor to others through the 100 Black Men of Greater Knoxville chapter. The organization's purpose is to serve as a catalyst to empower African American and other minority youth to reach their full potential.
"I hope we all pray for all family members and friends and neighbors who have been impacted today and recommit ourselves to working with all of our kids and our community to make sure that they have the opportunity for safe and healthy and hopeful lives," she said at a press conference Friday morning.
The high school football team posted a message along with a photo of Zaevion on Twitter. It read: "We want you to know that Zaevion was an outstanding young man who will always be remembered as a hero."
Friends and family of Zaevion have been paying tribute to him on socila media.
God bless Zaevion Dobson what he did was very courageous

— Lights Out (@shawnemerriman) December 19, 2015
15 year Zaevion Dobson was shot and killed Friday as he shielded 3 girls from gunshots. #Respect pic.twitter.com/iUeZqxRaWi

— 30 Second Football (@30SecFootbaIl) December 19, 2015