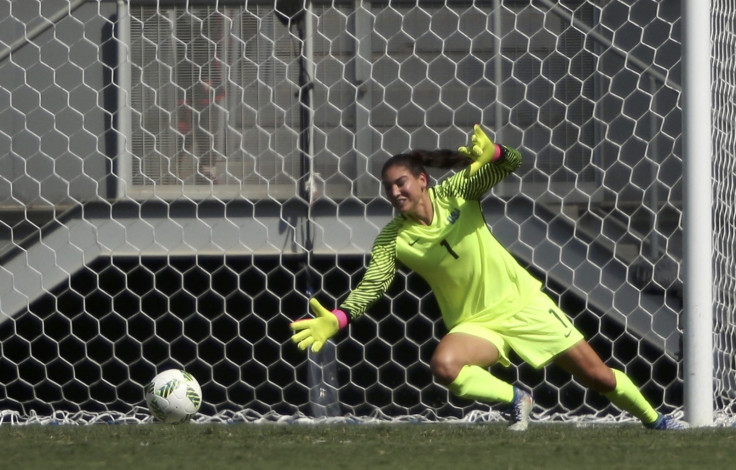 US women's national team goalkeeper Hope Solo has been suspended for six months by US Soccer for her conduct following the team's defeat against Sweden at the Rio Olympics.
In a statement, US Soccer president Sunil Gulati said Solo's characterisation of the Swedish team as "cowards" for playing defensive football in the aftermath of the quarter-final against the USA was "unacceptable".
The ban, which begins with immediate effect, makes her ineligible for selection to the national team until February.
The USA lost 4-3 on penalties against Sweden after extra-time ended in a 1-1 draw.
Solo, 35, was criticised for forcing Sweden's Lisa Dahlkvist to wait for an uncomfortably long time to take the decisive penalty by requesting a change of gloves.
She insisted after the match that the best team had lost and that the Swedes played like a "bunch of cowards".
The remarks attracted widespread scorn in the US for contravening the OIympic spirit of fair play.
'Excessive punishment'
"The comments by Hope Solo after the match against Sweden during the 2016 Olympics were unacceptable and do not meet the standard of conduct we require from our national team players," Gulati said.
"Beyond the athletic arena, and beyond the results, the Olympics celebrate and represent the ideals of fair play and respect.
"We expect all of our representatives to honour those principles, with no exceptions."
Richard Nichols, executive director of the US Women's National Team Players Association, said an appeal would be lodged against the ban.
"Given the cited conduct and alleged policy violation, we believe the proposed discipline to be excessive, unprecedented, disproportionate and a violation of Ms Solo's First Amendment rights," he told Sports Illustrated.
"We also question whether this action would ever have been taken against a male player or coach, who, in the heated moments after a frustrating defeat, questioned the tactics of the opposing team.
"Needless to say, we will file an appeal on Ms Solo's behalf."
Solo said in a short statement that she was "saddened" by US Soccer's decision to ban her.