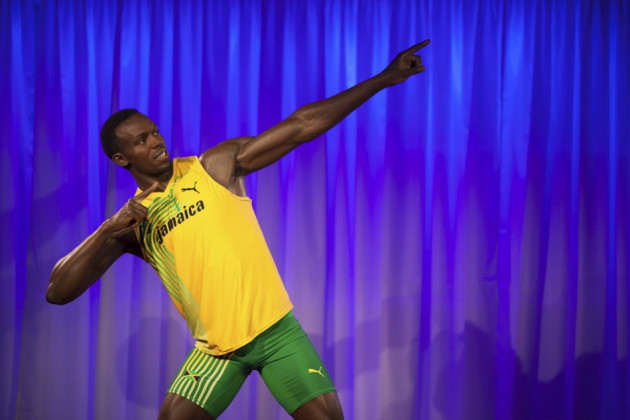 Days before the start of the London Olympics 2012, the world's fastest man, triple gold medallist and defending champion Usain Bolt, has been immortalised in wax.
The Jamaican sprinter's figure, which was unveiled at Madame Tussauds in London, is posed in his trademark "To Di World" form. The waxwork, believed to have cost £150,000 to make, took a team of 12 people four months to cast.
Although Bolt has not seen the finished item, Meike Schulze, general manager at Madame Tussauds, said he had been shown a picture of it and "absolutely loved it".
"It wasn't any more difficult than any other position we create and it's not been difficult [choosing] the perfect position for Usain Bolt," Schulze said.
"It is a very obvious pose and it's such an interactive pose as well. It's a unique pose. Our visitors will love it and will enjoy posing beside him in exactly the same [way]."
Bolt shot to international stardom with his breathtaking performance at the Beijing Olympics in 2008. He is the world record and Olympics record holder in the 100 metres, 200 metres and 4x100 metre relay and will defend his titles in London.
Bolt's wax statue will go on display in the Olympics sports zone, positioned alongside other medal hopefuls Jessica Ennis and Tom Daley from Team GB.
"We have revamped the entire interactive sporting zone so he will have his own dedicated area," Schulze said.