Usain Bolt unsurprisingly secured a place in Thursday's 200m showpiece at Rio 2016 by winning his semi-final heat. The Jamaican sprint superstar, bidding for a historic "triple-triple" after winning his third consecutive 100m Olympic gold medal earlier this week, started quickly and later eased off in his usual laid-back style before narrowly edging out Canadian Andre De Grasse at the line in a time of 19.78 seconds.
"Andre was supposed to slow down," Bolt, hoping to break his world record of 19.19 set at the 2009 World Championships in Berlin, told the BBC after the latest success.
"He didn't. I said what are you doing it is the semis? He said he had to push me, so whatever. I was a bit lazy, I don't know why today, but I executed it. I was watching the 100m and when I crossed the line Steve Cram said I am immortal now. I love that."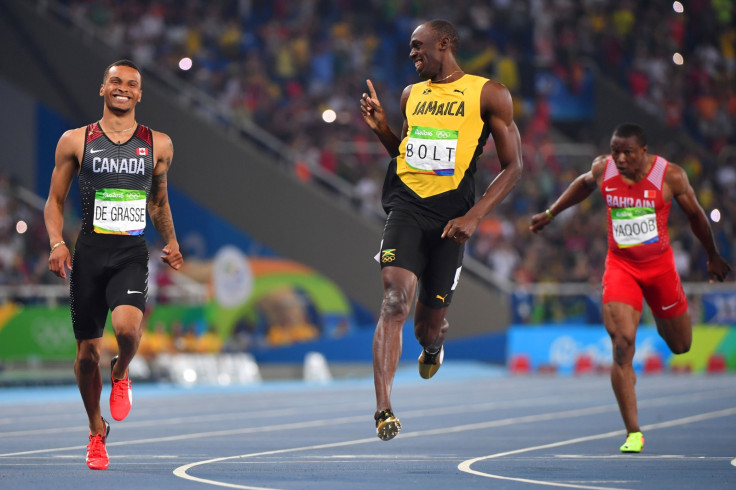 Team GB athletics captain Adam Gemili finished third behind that duo, but was evidently disappointed with his 20.08 as he tightened up somewhat on the final straight. He ultimately qualified as the fastest loser after a huge shock in the next race that saw Bolt's great rival Justin Gatlin make a critical mistake and fail to reach the final after crossing the line behind Alonso Edward and Churandy Martina.
Before his qualification was guaranteed, Gemili said: "I hope I am through. I am disappointed with that run. It is a good time, but I know I am better than that. I did not run my own race but 20.08 might make the final and if it is I'll get it right tomorrow. I gave it my best shot."
Sixth-place Yohan Blake was another high-profile casualty, while Briton Nethaneel Mitchell-Blake bowed out with a respectable 20.25. In the opening heat, 400m bronze medallist LaShawn Merritt emerged victorious in 19.94 and resurgent Frenchman Christophe Lemaitre ran his fastest time in four years to come second. Wiltshire's Danny Talbot clocked a personal best of 20.25 but it was not enough to progress.