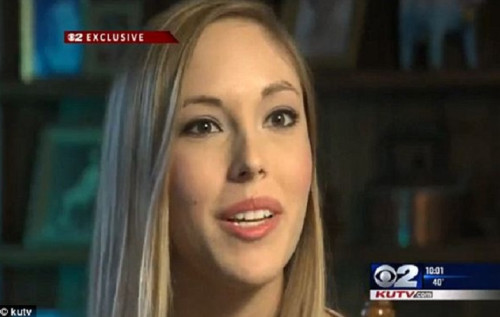 An American woman is questioning her identity after her biological father was revealed as a convicted kidnapper involved in a bizarre sperm swap at a Utah fertility clinic 20 years ago.
Annie Branum has gone public for the first time since the discovery and is trying to come to terms with the shocking reality of her paternal background.
Thomas R Lippert served two years in prison for kidnapping a student from Purdue University, Indiana in 1975.
While working as a technician at an IVF clinic in Utah in 1992, Lippert who has since died, swapped his sperm with a sample from Miss Branum's real father.
The Branums went to the clinic - partnered with the University of Utah - in 1992 after experiencing difficulty conceiving. Their treatment was supposed to use Mr Branum's sperm.
Annie was born nine months later.
The truth was only revealed when the Branums sent swabs off for online genetic testing.
When she found out her 21-year-old daughter was not related to her husband, John, but instead was Lippert's child, Mrs Branum told KUTV: 'I thought, 'Oh my God!'"
Mrs Branum had tracked down a cousin of Lippert's who revealed the man's past. A genetic test with Lippert's 99-year-old mother revealed that Annie was his daughter.
"In the beginning I was shocked," said Miss Branum.
"It took me a minute... I was like, 'What do you mean?'"
According to reports, Lippert would keep a wall of portraits of children born through the clinic at his desk and seemed 'proud' of them, sparking fears he may have secretly fathered other children.
Mrs Branum added: "All those photos of the babies that he was so proud of I thought, 'Oh my God, how many of those are his biological children?'''
Information as to just what happened at the sperm bank is sketchy, as Lippert died in 1999 and the clinic closed in 1998.
Now the University of Utah is providing free paternity tests to individuals who used the fertility clinic.
In a statement released today, the university said: "Since April 2013, the University of Utah has been investigating credible information regarding the possible mislabelling or tampering of a semen sample.
"Through genetic testing, a woman who received artificial insemination (AI) in 1991 discovered the biological father of her child was not her husband, as she had assumed. She traced the genetics of her child to a man who was a former employee of a now-defunct medical lab, Reproductive Medical Technologies Inc (RMTI). The man in question was also a part-time employee of the University from 1988-93. The woman recalls that her husband's semen preparation was prepared by RMTI."