Theresa May has reignited her government's war of words with Fifa by branding the governing body's poppy ban as "utterly outrageous".
"Before they tell us what to do, [they] jolly well ought to sort their own house out," the British prime minister told MPs today (2 November).
The comments come as the Football Association (FA) attempt to get the ban lifted for the Armistice Day match between England and Scotland on 11 November.
Sports minister Tracey Crouch also weighed in on the debate ahead of the World Cup qualifier.
"Footballers representing home nations should, if they choose, be able to wear their poppies with pride to pay tribute to the bravery and sacrifice of servicemen and women killed in conflict and to help support the armed forces community," she said.
"To have our players compete with poppies on their shirts would be particularly poignant as we continue to commemorate the centenary of the First World War."
The row has broken out because teams are not allowed to carry political, religious or commercial messages on their shirts under Fifa regulations.
Labour have also urged football world governing body to drop the ban. Tom Watson, the party's deputy leader said: "Wearing a poppy should be a personal choice and it is not for Fifa or any other institution to decide whether England and Scotland players are permitted to wear one."
May's remarks came during this week's Prime Minister's Questions ( PMQs), which saw her challenged by Jeremy Corbyn over the benefits system.
Corbyn warns of benefit cuts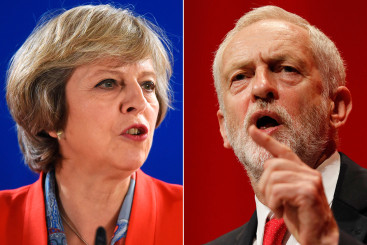 The Labour leader warned more than three million families will be £1,000 ($1,232) a year worse off because of cuts to Universal Credit, the government's flagship welfare system.
He also urged the Conservative premier to watch Ken Loach's I, Daniel Blake, an award-winning film which raises concerns about the UK's benefits system.
May hit back by claiming Corbyn was out of touch with traditional Labour voters over the issue.
"Of course it's important that in our welfare system we ensure that those who need the support that the state is giving them through that benefit system are able to access that, but it is also important in our system that those who are paying for it feel the system is fair to them as well," she argued.
"That is right, that is why we need to have work capability assessments, it's why we need to have sanctions in our system.
"Now, the Right Honourable gentleman has a view that there should be no assessments, no sanctions and unlimited welfare. I have to say to him that the Labour Party is drifting away from the views of Labour voters. It's this party that understands working class people."