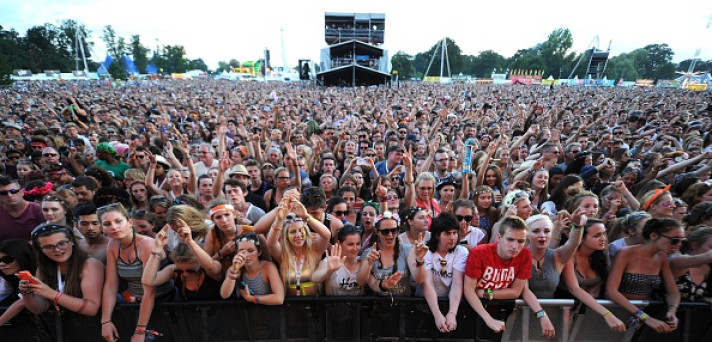 A 21-year-old man has been arrested on suspicion of raping a woman at Essex's V Festival. The alleged victim is a woman in her 40s. She reported being attacked after the end of Friday's (21 August) music session at Chelmsford's Hylands Park site.
A spokesman for Essex Police confirmed the arrest stating: "A 21-year-old man is in custody following an allegation of rape in Hylands Park, Chelmsford. [A suspect] remains in custody being questioned by detectives. Inquiries are ongoing.
"Police were contacted shortly before 1.30am on Sunday August 23, with reports that a woman in her 40s had been raped on the outskirts of the site. Officers attended and arrested a suspect on suspicion of rape. He remains in custody being questioned by detectives. Inquiries are ongoing."
Police have arrested a further 41 festival-goers this weekend, the majority of which were for ticket touting, breach of the peace, theft and drug offences, including possession of drugs with intent to supply.
Police have been issued drug warnings throughout the festival, which attracts tens of thousands of revellers. Festival-goers were warned of "very dangerous" pills which were discovered to have 'unusually high purity'.
Supt. Elliott Sharrard-Williams, commander of the police operation at the festival told Mail Online: "We discovered samples of two very dangerous substances with unusually high purity. One of the dangerous drugs found at V Festival Western Park is a purple pill with a Louis Vuitton logo and the other an orange pill with a crown logo. We examined the tablets at the onsite drugs lab, and we are concerned that high level of purity could cause users to become seriously ill."
Officers at the event also enforced a council ban on the recreational use of laughing gas, also known as nitrous oxide. 50,000 music fans were expected at the event, where acts including Calvin Harris, Ellie Goulding and Scouting For Girls were performing.