Vampire Diaries season 6: Are Elena and Damon planning to take the 'cure' and turn human?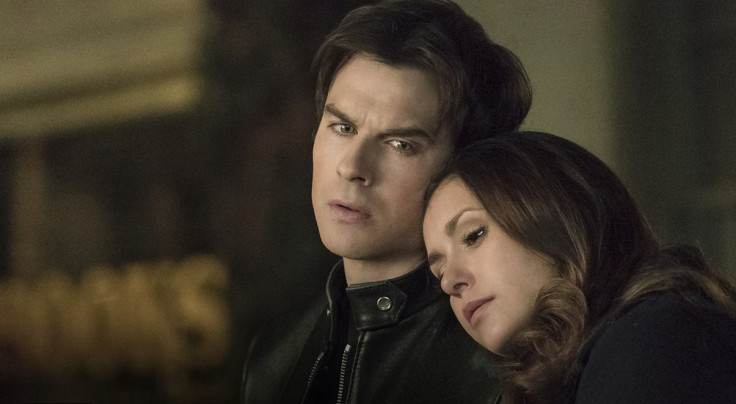 The Vampire Diaries season 6 is headed towards an entertaining climax and fans already know that Elena Gilbert would leave Mystic Falls forever, as actor Nina Dobrev will be leaving the show after the current season.
As far as the show is concerned, this would happen after Damon Salvatore gives Elena the "cure for vampirism" that Bonnie gifted him after they returned from the prison world of 1903.
And the synopsis of the upcoming episode hints that Delan are deciding to consume the cure and turn human as they do not want to stay apart from each other.
However, the Bennett witch is likely to discourage the Gilbert daughter from taking the cure and questions her, "What if the human you doesn't want Damon anymore."
Stefan, on the other hand discourages his elder brother from taking the cure, as it might be dangerous for him.
In the previous episode, Elena expressed her desire to have a family and raise children which is not possible if she remains a vampire, and this is when the elder Salvatore brother struggled to keep the cure a secret from his true love.
In the latest promo, Elena can be seen drinking the cure in order to get rid of her vampire avatar, but there might be more to it and she may finish the potion by herself to prevent Damon from risking his life.
The official synopsis of episode 20 titled I'd Leave My Happy Home for You reads:
As Alaric (Matt Davis) and Jo (guest star Jodi Lyn O'Keefe) reluctantly participate in their bachelor and bachelorette parties, Damon (Ian Somerhalder) and Elena (Nina Dobrev) discuss the ramifications from an impulsive offer that Damon makes. Unsure of what to do, Elena turns to Bonnie (Kat Graham) and Jo for advice, but is left conflicted when Bonnie raises some unanticipated concerns. When Enzo (Michael Malarkey) realizes Lily (guest star Annie Wersching) is on a dangerous downward spiral, he asks Stefan (Paul Wesley) to help intervene before it's too late. Lastly, fed up with the supernatural threats that plague their town, Matt (Zach Roerig) takes his frustrations out on Tyler (Michael Trevino), while Alaric considers a life-changing piece of advice.
With three episodes left for the season 6 finale, it remains to be seen, how Elena would exit the show.
The Vampire Diaries season 6 airs every Thursdays on The CW network.
© Copyright IBTimes 2023. All rights reserved.