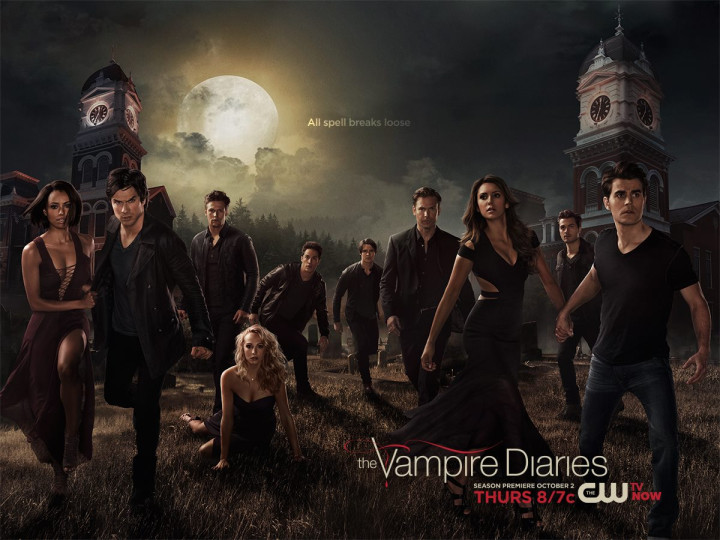 The Vampire Diaries season six premieres tonight and promises to answer the questions that were left unanswered during the season five finale of CW's smash hit supernatural thriller.
During the fifth season finale, Mystic Fall was taken hostage by the Travellers while Stefan's life was in danger. Meanwhile Damon finally came with the Project Kaboom to save his brother and Mystic Fall in order to break the spell cast by the Travellers.
However, things didn't go as planned as the elder Salvatore brother gets trapped on the Other Side along with Bonnie.
Their unexpected death has left Elena and the younger Salvatore brother devastated and the most awaited premiere of the series is expected to throw light on the vampire's life in the aftermath of the last season's events.
While Elena will try to forget her toxic lover by joining the medical centre, Caroline remains desperate to break the Travellers' spell and struggles to contact Stefan.
The synopsis of the premiere episode titled I'll Remember via Wetpaint reads:
"After spending the past four months coping with the loss of Damon in an unconventional and potentially dangerous way, Elena has returned to Whitmore College for the start of sophomore year. Unable to move on, Caroline (Candice Accola) is desperate to find a way to reverse the anti-magic spell the Travellers have put over Mystic Falls and grows frustrated when her calls to Stefan go unanswered.
"Tyler (Michael Trevino), who is human once again, has a run-in at a football tailgate that tests his ability to control his anger, while Matt (Zach Roerig) worries that Jeremy (Steven R. McQueen) is dealing with the loss of Bonnie in a self-destructive way. Alaric, who is struggling to adjust to his new life as a vampire, finds himself in an awkward situation when he meets Jo, a beautiful doctor at the university hospital.
"Last, while everyone believes Stefan is off tracking a lead to get Damon and Bonnie back, Elena is shocked when she learns the truth of what he has really been up to."
The Vampire Diaries Season six episode one I'll Remember airs on the CW network on 2 October.
Click here to watch the episode online.